Posted on
Sat, Dec 15, 2012 : 10 a.m.
Dexter elementary school tops $50,000 in donations for St. Jude Children's Research Hospital
By Danielle Arndt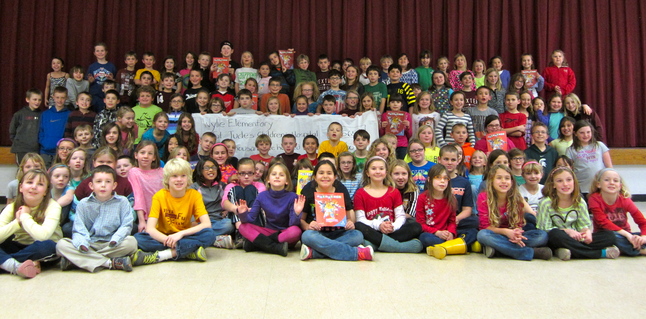 Courtesy of Dexter schools
Throughout 2012,
St. Jude Children's Research Hospital
has celebrated its golden anniversary —
50 years
of saving children's lives.
In Dexter, children from Wylie Elementary School have a golden gift for the cancer center, which is devoted to preventing, treating and curing pediatric cancers and other catastrophic, life-threatening diseases.
One math problem at a time, since 2006, the Dexter elementary school has raised more than $50,000 for St. Jude's. The school operates a Math-a-thon for St. Jude's each year around the holidays.
Students complete math problems and receive donations from family and friends for each problem they answer correctly.
Toping its $50,000 goal during St. Jude's 50th anniversary was pure coincidence, but was icing on the cake, said third grade teacher Jennifer Johnson.
"This is an amazing feat for our students," Johnson said.
"… When we started this, $50,000 seemed like a crazy dream. I'm just so proud of our kids and their accomplishment. Now I can't wait for $100,000," she said with a chuckle.
Johnson began the fundraiser six years ago with just two classes participating, hers and another third grade teacher. They raised $3,634.79 that year.
In 2007, the Math-a-thon spread to the entire school, with a November kick-off assembly to get children excited about math and raising money for a good cause. In year two, Wylie Elementary raised $13,811.96.
The Math-a-thon only lasts about three weeks each year. The kick-off occurs before Thanksgiving and the money is due the first week of December.
Dexter Superintendent Mary Marshall said the Wylie staff and students all put forth an "incredible effort" in this fundraiser.
"And what a wonderful organization and charity for them to be raising money for," she said.
Johnson said the Math-a-thon is voluntary. Students who elect to participate in the fundraiser are given a special math workbook at the kick-off assembly. Then, the math madness frenzy begins.
Some students ask their friends, family members and neighbors to pledge money ahead of time and collect if they reach their "problem goal," Johnson said. Others ask for donations as they go, per completed problem.
"It's quick," Johnson said of the fundraiser timeframe. "But every year I get tears in my eyes. The kids are spending every minute they can doing these math problems. Most of the work has to be done at home or the kids spend their lunch time or recess time. We literally have to pry the workbooks out of their hands for class.
"(The students) really make a big deal out of it. They're excited to be helping other people — and other kids."
Johnson said donations are still trickling in for this year, although the Math-a-thon officially ended Dec. 7. So far for 2012, the school has tallied $10,873.90, bringing their six-year total to more than $58,000.
Danielle Arndt covers K-12 education for AnnArbor.com. Follow her on Twitter @DanielleArndt or email her at daniellearndt@annarbor.com.