Posted on
Sat, Nov 26, 2011 : 9:40 a.m.
Dexter Heritage Guild readies for 40th annual Christmas bazaar
By Lisa Allmendinger
Lisa Allmendinger | AnnArbor.com
Sandy Matsco
was one of the eight ladies learning needle felting from
Suzanne Van Natter
on a recent Wednesday at the Dexter Area Museum.
Van Natter was donating her expertise and materials to the Dexter Heritage Guild members, who craft year-round to make items for the annual Christmas bazaar held each year on the first Saturday in December at the Dexter Area Museum.
"The bazaar serves as one of the major fundraising events of the year for the museum," said Sue Schotts, a guild member.
Matsco, one of five new members of the guild, said she moved back to Dexter and was looking for an organization to get involved with when she found the Dexter Heritage Guild.
"Plus, I love crafts and wanted to make new friends," she said, adding that she likes to knit, crochet and cross-stitch.
The new members have infused this year's bazaar with new ideas as well as new craft items, Schotts said.
"I love crafting," said Kathy Cooley who said not only do the ladies learn new crafting techniques but they also enjoy the volunteer work that supports the museum.
Her story is similar to Connie Corwin's. Another new member of the guild, she joined after attending one of the organization's two antique appraisal clinics.
For Lois Ledbetter, the guild provides "friendships and laughing."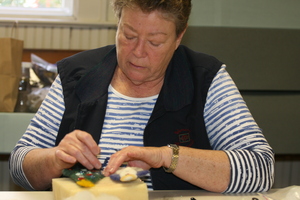 Lisa Allmendinger | Ann Arbor.com
The Dexter Heritage Guild will host its 40th annual Christmas bazaar and bake sale from 9 a.m. to 3 p.m. Dec. 3 at the Dexter Area Museum, 3443 Inverness. In fact, the Village of Dexter will be humming with holiday happenings that day with two additional organizations hosting holiday bazaars from 9 a.m.-3 p.m.
The Girl Scout Holiday Bazaar will be held at St. Andrew's United Church of Christ, 7610 Ann Arbor Road, across the street from the museum.
The Dexter Senior Center, located just down the road at 7720 Ann Arbor St., will host its annual Grandma's Attic sale, bake sale and 50/50 raffle. The raffle takes place at 2 p.m.
The first Dexter Area Museum bazaar took place in 1971 in support of the Dexter Area Historical Society and Museum, Schotts said.
Expected for sale are wooden toys, Christmas decorations, kitchen items, fine needlework, doll quilts, Christmas crackers, and home-made baked goods. Plus, Santa will pay a visit between 10:30 a.m. and noon. Visitors are encouraged to bring young children and their cameras.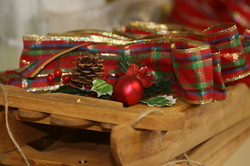 Lisa Allmendinger | AnnArbor.com
There will also be tickets available for a drawing of an original wall painting and a hand-made market basket. The drawing will take place at 3 p.m. The museum also will open its permanent collection and gift shop open.
The Girl Scout Holiday Bazaar helps the scouts fund troop trips, service projects for the community, and dues for girls who cannot afford to pay for activities, according to information supplied by the group.
There will be homemade crafts, which help the girls learn craft skills as well as money sense, while helping them earn badges and interest patches, the information states.
Items expected to be sold include Christmas ornaments and decorations, handmade cards, reindeer food, birdfeeders, jewelry, hair scrunchies, fleece blankets, knitted hats, bake goods and much more.
The church's Senior Choir will offer lunch featuring homemade soup and cornbread.
And as an added bonus, visitors can tour Gordon Hall on Dec. 3-4 from noon-6 p.m. where volunteers will guide them through the historic home. A $5 donation is requested.
Lisa Allmendinger is a regional reporter for AnnArbor.com. She can be reached at lisaallmendinger@annarbor.com. For more Dexter stories, visit our Dexter page.