Posted on
Mon, Mar 19, 2012 : 1:30 p.m.
Dexter school board praises superintendent's leadership in wake of Dexter tornado
By Lisa Carolin
While Dexter school district Superintendent Mary Marshall paid tribute to championship academic (Ocean Bowl) and athletic (swim and dive) teams at Monday night's school board meeting, the board paid tribute to Marshall for her leadership as the community recovers from the devastating tornado that struck the area Thursday.
During the recovery effort, schools have been used as central command headquarters and shelters, as well as to provide showers and recreational facilities.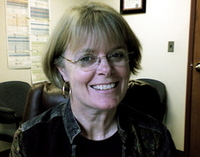 "I want Mary to know how much the school board and staff appreciate what she's done," school board president Larry Cobler said as the meeting began. Those in the packed board room responded with an enthusiastic round of applause.
Marshall, in turn, gave credit to the people of Dexter.
"The team of people in this community and school district is second to none," she said.
Marshall said that many teachers spent Monday letting students share their own tornado experiences. Junior Andrew Milkey, a student representative for the school board, attended tonight's meeting wearing a large bandage on his hand. He got the injury using a chainsaw during the cleanup. Milkey was emotional as he talked about his observations over the last several days.
"This experience and all the support are amazing," he said. "We're a big family here in Dexter."
School resumed Monday after being canceled Friday, and counselors rode on some of the buses to help students deal with storm damage, including downed trees, visible along the bus routes. Counselors were also present at all of the schools and were expected to be at the schools again Tuesday. The district drew on counseling resources from Chelsea and Saline schools to make sure enough would be available.
Marshall also announced that a representative from Japan would be making a presentation to the community at Dexter's Cornerstone Elementary School Tuesday. The reason: After the Japanese tsunami and earthquake just over a year ago, students from the school collected money and sent it to the victims of the Japanese disaster. The Japanese wanted to return the favor.