Posted on
Sat, Apr 14, 2012 : 5:58 a.m.
Dexter tornado: Relief donations top $170,000; funds being disbursed to homeowners
By Cindy Heflin
Soon after a tornado ripped through the Dexter area March 15, leveling homes and uprooting trees, it was apparent that this angry spawn of Mother Nature was no match for the community's spirit.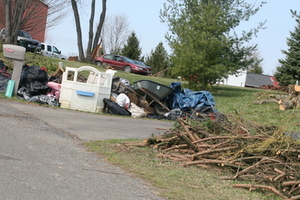 Volunteers turned out in droves to assist in the cleanup. A
billboard sprang up warning tornadoes not to mess with Dexter
, and donations poured in. So far, more than $170,000 has been collected to help homeowners and residents pay for losses not covered by insurance, said Nancy Paul, director of
Faith In Action
, which is overseeing the Dexter Relief Fund. That doesn't even count dozens of smaller collection efforts.
"It just feels pretty amazing," Paul said. "I can tell you the community feels very well cared for." One individual even gave a $10,000 anonymous donation, she said. More than $16,000 came from donations collected by LaFontaine Chevrolet, which suffered significant damage from the tornado, Paul said. United Way of Washtenaw County collected another $16,000.
Faith in Action is accepting applications from those who need financial assistance as a result of tornado damage and has already approved payments of $42,000, Paul said earlier this week. That's on top of the $3,000 to $5,000 the agency distributed in the first few days after the storm to help residents buy food and gas.
Faith in Action is prioritizing needs based on damage and income and will fund requests as quickly as possible, Paul said. There's no specific income requirement for assistance, but higher priority will be given to requests from lower income residents, Paul said. Many requests are likely to be only partially funded until the agency can evaluate how great the need is.
Those applying for assistance need to provide some evidence that they are filing a claim with their insurance company for damages and documentation of the deductible amount, Paul said. Applications can be submitted at the drop slot at Faith In Action, 2822 Baker Road or faxed to 734-475-3136. Call 734- 475-3305 with questions.
You can donate to the Dexter Relief Fund online.