Posted on
Tue, Nov 30, 2010 : 8 a.m.
Dexter Township Board approves new fire substation; Dexter Area Fire Authority will man it around the clock
By Lisa Allmendinger
The Dexter Township Board at a special meeting Monday night unanimously approved the establishment of a fire station at the Multi Lakes Sewer Authority on North Territorial Road. The board also decided to have firefighters from the Dexter Area Fire Authority man the station around the clock.
Currently, the township contracts with Putnam Township Fire Department to cover the Portage Lake area in the northeast section of the township, Chelsea Area Fire Authority to provide fire protection in the western portion of the township and Dexter Area Fire Department to cover the center and southeast portions of the township.
Both the Dexter and Chelsea departments provided detailed bids to man the substation, and both departments will continue to provide service for township residents. However, the service area for the Dexter department will increase, while the area that Chelsea serves will decrease.
"At the end of the day," said Dexter Township Supervisor Pat Kelly, "There is one difference and that's cost allocation. As long as CAFA has a millage-based allocation, this doesn't work for us."
Voters in the CAFA member municipalities - Chelsea, Sylvan, Lima and Lyndon townships - approved a 1.8 mill levy to pay for fire services. Dexter Township contracts with CAFA and would be expected to pay an equivalent amount for fire services, which is more expensive than its current per-run cost basis.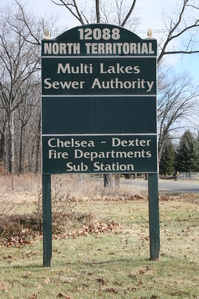 Lisa Allmendinger | AnnArbor.com
"Both are quality fire departments," said Trustee
Jason Maciejewski
. "This was not an easy decision to make." The millage rate needed to fund service in the township at the current level in 2011 would be 1.67 mills; the current township fire millage levy is 1.487. Estimates for service were expected to increase to 2.02 mills by 2015, according to a report.
"This decision was based on service and safety," Kelly said, while praising both fire departments' ability to serve township residents.
A nine-member Public Safety Advisory Commission was appointed in April to look at both the township's police and fire services, and the committee recommended establishing a substation at Multi Lakes to improve response times for the township of about 6,600 residents.
Both Kelly and Maciejewski said they preferred a regionalized fire authority, which was also one of the conclusions of the public safety committee.
Net startup costs for a temporary sub-station at 12088 North Territorial Road are estimated at about $47,000.
Lisa Allmendinger is a reporter for AnnArbor.com. She can be reached at lisaallmendinger@annarbor.com.