Posted on
Mon, Dec 6, 2010 : 11:26 p.m.
Dexter planners set date for hearing on regulations for medical marijuana dispensaries
By Lisa Allmendinger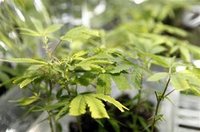 The
Dexter Village Planning Commission
Monday night unanimously set public hearings for Jan. 3 on several zoning amendments that will allow and regulate
medical marijuana dispensaries
in the village.
In addition, the commission unanimously requested that the Village Council extend its current moratorium on medical marijuana dispensaries an additional 90 days. The current moratorium expires later this month. The Village Council is expected to act on the extended moratorium request at its regular meeting on Dec. 13.
"The village is attempting to create regulations that meet the intent of the law, while protecting the public's health, safety and welfare," Allison Bishop, the village's community development director, said previously.
Bishop told village planners she expects local officials will get more information about the best way to comply with the state's Medical Marijuana Act but not for at least six months and "we're still not clear what that information will be."
She pointed out information she'd received from tie village attorney about an American Civil Liberties Union lawsuit filed against the cities of Birmingham, Bloomfield Hills and Livonia — municipalities that have approved resolutions that "prohibit all uses or purposes contrary to federal, state or local laws or ordinances."
Chelsea is considering a similar ban and approved on first reading a similar ordinance, which is expected to be on the council agenda on Dec. 14 for a second reading. Saline has already approved a similar ban. Other municipalities, including Ann Arbor, are discussing how to regulate medical marijuana.
Michigan voters approved the use of medical marijuana in 2008.
Dexter's draft ordinance includes a provision that a dispensary cannot be located within 500 feet of a library, a school or another dispensary and must be located in a zoning district that's accessible, has ample parking and has public transit available.
In addition, dispensaries must have security systems and proof of the system as well as ongoing monitoring. The draft ordinance prohibits "medical marijuana home occupations within multiple family dwellings" and exterior signs using the word marijuana.
Also according to the draft ordinance, a dispensary must keep a log book and or a database identifying by date the amount of medical marijuana on the premises for each registered qualifying patient or registered primary caregiver, while keeping the qualifying patient and caregiver information confidential.
Fines for violating the village's medical marijuana ordinance are proposed to be $1,000 for the first violation, $2,000 for the first repeat violation and $3,000 for a subsequent violation.
Lisa Allmendinger is a reporter for AnnArbor.com. She can be reached at lisaallmendinger@annarbor.com. For more Dexter stories, visit out Dexter page.