Posted on
Thu, Dec 8, 2011 : 6:30 p.m.
Dexter's Pub site of C.S. Mott Children's Hospital fundraiser for Jerry Reed Memorial Fund
By Lisa Allmendinger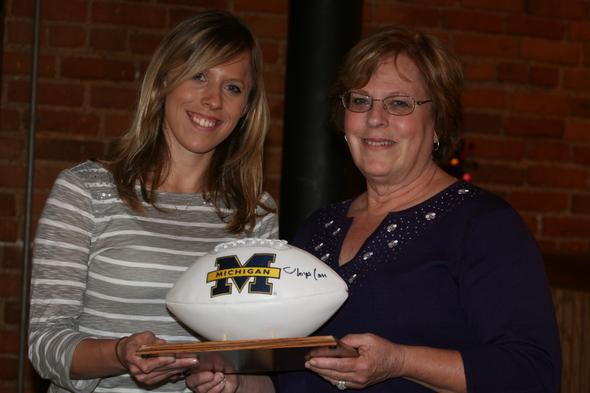 Lisa Allmendinger | AnnArbor.com
Pat Reed
and her daughter,
Tina
, spent Thursday afternoon on the top floor of
Dexter's Pub
adorning the tables with almost 40 items, from handmade quilts to footballs and basketballs autographed by University of Michigan coaches and former players.
At the same time, they remembered Jerry Reed, husband and father, who always thought about ways to help families of children who were patients at C.S. Mott Children's Hospital — especially during the holidays.
The mother and daughter were awaiting the arrival of friends and arranging donated items, which are part of a fundraising auction to benefit those families that are struggling financially with the financial burden of caring for ill children.
"This would have meant a lot to him," Tina Reed said.
Tina Reed flew in from Maryland to give her mom a hand the day of the event. She said her mother did all the work for the event and she just popped in to support her efforts.
Lisa Allmendinger | AnnArbor.com
This is the first year for an auction and fundraiser for the Jerry Reed Memorial fund at Dexter's Pub, which is donating 10 percent of the bill from food sales at the pub to the charity.
"There are a lot of great Christmas gifts here," Tina Reed said, especially for men.
Jerry Reed worked for 35 years in the Child Life Department at C.S. Mott before he died last May at the age of 56. The fundraiser for families of the children in the hospital is something he would have enjoyed, his wife and daughter said.
"These families, some are living in hotels, eating hospital food all the time and they have kids at home and some have to take time off from work to take care of their children," Pat Reed said. "Jerry understood that and always wanted to help the families."
The fundraiser is taking place today and the auction will continue until 7:30 p.m. tonight at Dexter's Pub, which is located at 8114 Main St.
Ten percent of all sales will be donated to the Jerry Reed Memorial Fund, which benefits families burdened with health care costs.
There are footballs signed by Hall of Fame former U-M football coach Lloyd Carr and a hockey stick signed by U-M men's hockey coach Red Berenson, plus there are gift cards and special packages from businesses throughout the county.
Pat Reed began gathering donations in early November. Because she worked at U-M Hospital for 36 years, she knows a lot of people who helped her with the effort.
Pat Reed said she had no expectations about how much money would be raised, "but any donations will help the families," she said.
If you couldn't make it to the event but would like to donate, click here and specify the Jerry Reed fund.
Lisa Allmendinger is a regional reporter for AnnArbor.com. She can be reached at lisaallmendinger@annarbor.com. For more Dexter stories, visit our Dexter page.