Posted on
Mon, Apr 22, 2013 : 2:24 p.m.
Explosion in Dexter critically injures 2 men
By Kyle Feldscher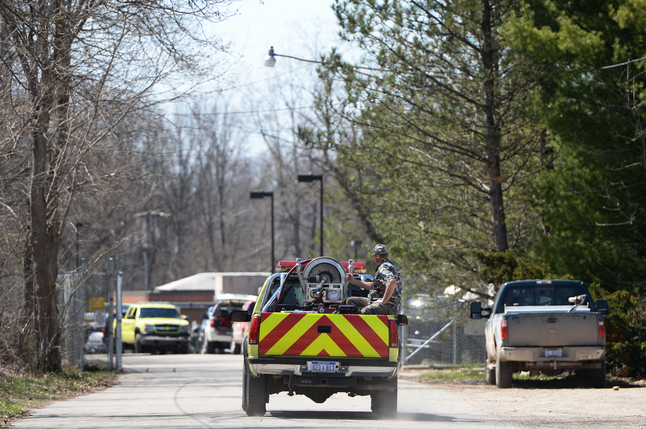 Melanie Maxwell | AnnArbor.com
Editor's note: This article was updated at 3:30 p.m. with information from Dexter Area Fire Department Chief Loren Yates.
Two men were critically injured when methane gas exploded while they were working on a holding tank at the Dexter Utilities Department wastewater treatment plant, officials said Monday afternoon.
The men were working around the tanks at 1:39 p.m. Monday when the explosion occurred, Huron Valley Ambulance spokeswoman Joyce Williams said.
After the explosion, firefighters found the men on top of the roof of a nearby building, said Dexter Area Fire Department Chief Loren Yates. As of about 2:25 p.m., both men had been taken to the hospital by ambulance. Both men appeared to be in critical condition, Williams said. Yates said six firefighters went in the ambulances to assist the injured men.
The men were using a welder's torch on a storage tank when it came in contact with methane gas, causing the explosion, Yates said. The men were employes of a contractor hired to do remodeling work at the utility department, he said.
Yates said firefighters believe both men were in the tank at the time of the blast. One man was blown out of the tank by the explosion and the other man was assisted out of the tank by other workers.
The University of Michigan's Survival Flight helicopter was called to transport the most critically injured man to the hospital, Williams said, but both were sent in ambulances. HVA had sent two ambulances and a supervisor to the scene.
The men were taken to the University of Michigan Hospital by the ambulances, Williams said.
Dexter firefighters were first on scene and they rescued the men with assistance from the Washtenaw County Technical Rescue Team. The Chelsea Area Fire Authority was also called in to provide back up, Yates said.
Huron Street was closed to traffic about 100 yards from the intersection with Broad Street just before 2:30 p.m.
Witnesses said the explosion shook nearby homes and businesses. One man said he felt it at the nearby Dexter library.
The explosion occurred in an area hidden behind buildings and trees. Some men working on remodeling a building east of the explosion said they were not aware of the explosion until emergency crews came by.
"I didn't hear the explosion," David Huffine said. "But, then there were fire trucks and ambulances going by so I knew something happened."
The Washtenaw County Sheriff's Office is investigating the incident, Yates said. Officials from the sheriff's office did not immediately return phone calls Monday afternoon.
Associate news director Cindy Heflin and crime reporter John Counts contributed to this story.
This article will be updated.

View Dexter explosion in a larger map