Posted on
Mon, Nov 22, 2010 : 4:37 p.m.
Family of wounded U.S. Marine thanks Dexter community for raising nearly $8,000 in donations
By Heather Lockwood
Debbie Chisolm of Dexter says she was overwhelmed by the community support her family received after her 23-year-old nephew, David Ray Lack, a U.S. Marine, was injured by an improvised explosive device while serving in Afghanistan last month.
She says donations to help curb the family's expenses — including those made at a Nov. 13 benefit at Dexter's Pub and at Dexter's United Bank and Trust — have totaled nearly $8,000.
"I personally want to thank everyone from the bottom of my heart," Chisolm said. "It has meant so much."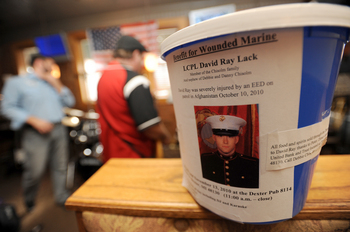 Chisolm said she hadn't expected to exceed her fundraising goal of $5,000, given that "it's hard times for everybody right now."
Lack has an infection in his right leg and lost part of the leg from the knee below. He also suffers from broken bones in an arm and hand, damaged eardrums, collapsed lungs, a torn retina and shrapnel wounds, his aunt said.
Chisolm said Lack will need surgery to his ears.
"It's a slow process. When you think you're doing good, you get knocked back," she said of Lack's recovery.
Chisolm also extended her appreciation to Dexter's Pub owner Peter Theocharakis and his staff. "Without them, that (benefit) could not have happened," she said.
Matt Chisolm, Lack's cousin, hasn't been able to see or talk to Lack since he was injured.
"He (is) a shy and quiet, fun-loving kid. Likes to fish and hunt," Matt Chisolm of Dexter said. "We're just happy to have him alive."
Chisolm said her nephew has a great sense of humor — a trait she hopes will help him get through this difficult time.
Debbie Lack said her son thought about joining the Marines when he was in high school but became a certified welder after graduating. Then when he was 21, she said, he decided the time was right.
"Since he was in his 20s, if he was going to do it, he had to do it then," she said.
Debbie Lack, who has been spending time with her son at the National Navy Medical Center in Bethesda, Maryland, said Lack is "a fighter" and is staying positive. He's telling his friends, who are unsure of how to deal with the situation, "It's still me."
"He's in very good spirits. He has a good attitude, compared to what he's been through," she said on the day of the benefit. "He has just said, from the beginning, 'This isn't going to get me down.'"
Heather Lockwood is a reporter for AnnArbor.com. Reach her at heatherlockwood@annarbor.com or follow her on Twitter.