Posted on
Mon, Feb 18, 2013 : 1:19 p.m.
Woman rescued after driving onto frozen lake by mistake
By John Counts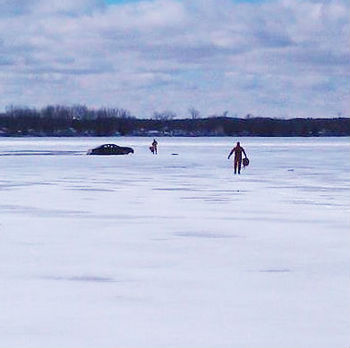 Courtesy of Amy Conway O'Brien
A woman rescued Sunday from a car partially submerged in a Washtenaw County lake thought she was still on the road when she drove onto the frozen body of water, fire officials said.
Rescuers got the woman to safety from her Monte Carlo, which was stuck on thin ice about 400 to 500 feet from shore on Dexter Township's Portage Lake .
The woman was driving on McGregor Road when she went off onto McGregor Lane and then onto the lake around noon Sunday, said Lt. Tim Burke of the Dexter Area Fire Department.
Amy Conway O'Brien, an area resident who lives on the lake, said the car drove off McGregor Lane, through one of her neighbor's backyards before ending up on the ice.
Burke said the woman, who was described as about 24 years old and from the Dexter area, thought she was still on the road at first. When she realized she wasn't on the road, the woman told fire officials she tried driving across the lake.
"She said she got lost," Burke said. "She got out onto the ice and panicked."
O'Brien said she immediately called 911.
The ice on most of the lake is "pretty thick," Burke said, but there is a spring that feeds into it which leaves some areas open. O'Brien said the Monte Carlo ended up near an area of open water where a dozen swans generally congregate.
"I saw the swans move out of the way as the car approached the hole," O'Brien said. "Then the car drove right into the opening."
The back of the woman's car was submerged when fire crews and the Washtenaw County Sheriff's Office Dive Team arrived, Burke said.
Three rescuers in wet suits dragged a rope out to the woman and safely brought her to shore. She was uninjured, but quite shaken up, Burke said.
The car was later towed ashore with minor damages, he added.
John Counts covers cops and courts for AnnArbor.com. He can be reached at johncounts@annarbor.com or you can follow him on Twitter.