Posted on
Mon, Mar 26, 2012 : 5:59 a.m.
'It was dumb luck,' says sheriff's officer who pulled a man out of tornado rubble
By Lisa Allmendinger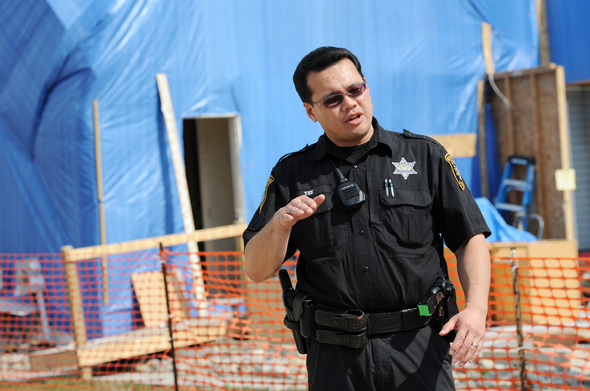 Melanie Maxwell I AnnArbor.com
Although he's been called a hero for pulling a Dexter resident from the basement of his home in Huron Farms subdivision following the EF-3 tornado that struck March 15, Deputy Sheriff Ray Yee says "it was dumb luck" that he was even there.
While retracing his steps a week after the tornado, Yee said he was on M-52 and Interstate 94 in Manchester when he responded to a report of a "house implosion" behind Busch's.
"As I'm driving in (to Huron Farms), there's hail and fat rain drops, I couldn't see. We pull in and I see a house, then no house, then a house, as I'm looking for the address," he says.
As one of the first two emergency responders on the scene, Yee and a Michigan State trooper, who had followed him into Dexter from Manchester, started a house-by-house search.
"I see an arm sticking out and a voice saying, 'help me, help me get out.' I dash over and I'm asking if he's OK and he hands me a silver octagon case. He's a musician and won't let go of his guitar."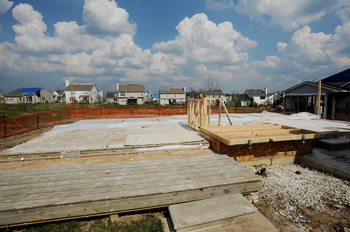 Melanie Maxwell I AnnArbor.com
The man was in his basement, under the stairs, which protected him when his home crumbled around him, and wanted Yee to grab the case before he was pulled to safety.
"I help him out and it's still pouring and I'm asking him if he's OK. He says, 'I'm fine' and has two cases, one in each hand, and he just walks off. It was the weirdest thing. I don't know where he went, he just walked off like something out of a movie."
From there, Yee says, he and a Michigan State trooper continued checking home after home and inching the patrol car up the road until they came to a home with a garage door open.
There were loud alarms going off and he started banging on the front door, asking if everyone was OK.
"I hear a voice saying, 'we're down here.' I've never been in this house and I'm going through it trying to figure out where the basement door is."
The voice came from a mother, who had two children with her. "She's halfway up the steps and they are all holding their ears because of the alarms. First, I apologized about the damage, but then I ripped the alarm off the wall," to silence it, he said.
"I made sure they were OK. They were under the stairs and had a mattress. They were pretty comfortable. I told them to hang tight and I'd come back and let them know when they could come out."
The concerned mom kept asking, "How will I know when it's safe to come out? How will I know? I told her I promise I'll be back."
Yee said he and Cpl. Mark Mesko walked all the way to the other end of the subdivision, to Meadowview Drive, before they doubled back, checking home after home and marking them with police tape to let other first responders know that the homes had been checked.
All the while, Yee said, "it's raining on and off, I'm already soaked and I don't have any rain gear, and I'm getting hailed on. "
"If a front door was locked and no one answered, we went to the back and looked in, knocking and knocking, asking if everyone was OK," he says.
"We had no way of knowing who was home and who wasn't."
When he got back to the home with the mom and two children, Yee says he helped them get their car out of the garage, made sure they had ID with them and sent them to Mill Creek Middle School just across the street.
Meanwhile, in Dexter Township, Deputy Marvin Sharrock was at Dexter-Pinckney Road and North Territorial. He saw the funnel cloud forming and no matter which way he traveled, "the tornado seems to be following me," he says. "I kept trying to get south of it."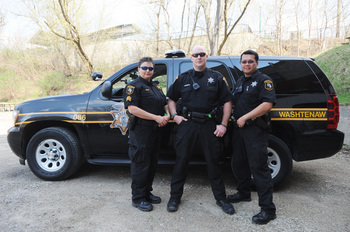 Melanie Maxwell I AnnArbor.com
Sgt.
Beth Gieske
said she was on Jackson Avenue when the calls began coming in. "Marvin called out a funnel cloud and I headed downtown."
But, she, too, had trouble getting around Dexter Township because trees and wires were down. She and Sharrock were trying to hook up to get to Carriage Hills subdivision to search. There were reports of trees on homes, but he couldn't get there.
Gieske said she found a way into the subdivision and began checking homes to make sure people were OK.
"It was amazing, the central dispatch radio communications," she says, that linked the emergency responders, "with so many things happening at once, the system really worked."
"And the most amazing thing is that no one got hurt," she says. Residents have praised the efforts of Dexter Area Fire Department and the neighboring fire departments, which raced to the scene, as well as the Sheriff's Office, the Michigan State Police, Huron Valley Ambulance and other neighboring ambulance services, the Village Department of Public Works employees, village staff and the Washtenaw County Road Commission. The Salvation Army and the Red Cross, local businesses, the schools and elected officials immediately assisted in any way possible to help with aftermath of the tornado.
But in Yee's opinion, "The biggest hero in this is the Dexter community, the people who came to check on their neighbors immediately. This community really came together to help out and this is what we talk about when we refer to sustainable communities, bringing back the 'neighbor' in neighborhood."
Lisa Allmendinger is a regional reporter for AnnArbor.com. She can be reached at lisaallmendinger@annarbor.com. For more Dexter stories, visit our Dexter page.