Posted on
Thu, Oct 20, 2011 : 5:59 a.m.
Township seeks to shut Jenny's Dexter Market following accident; state cites business for violations
By Lisa Allmendinger
Webster Township officials are trying to shut down Jenny's Dexter Market following an accident that seriously injured a worker at the business last month. The state has also cited the market for several food safety violations and restricted what can be sold there.
Township Engineer and Zoning Administrator Bruce Pindzia said he and a Washtenaw County sheriff's deputy hand delivered the "red tag" cease operations order to market owner Burton Hoey on Sept. 25, one day after a hayride accident seriously injured an employee.
The township's stop-work order cited the market west of Dexter for nine zoning violations that range from lack of an approved site plan and failure to get a special use permit for some of its activities, to failure to have a certificate of zoning compliance for a building addition.
Separately, the Michigan Department of Agriculture, during an Oct. 7 inspection, found six critical violations of food safety rules — including a lack of proper hand washing and bathroom facilities for employees and the sale of food products processed under insanitary conditions. The state also found one non-critical violation.
Jenny's owner Burton Hoey said township officials are targeting him unfairly and that he has complied with the state's orders regarding food safety. He plans to keep operating unless a court orders the business closed.
"The township zoning inspector has nothing better to do," Hoey said. "He's trying to keep his job and he doesn't like me personally, nor does the township Supervisor John Kingsley," Hoey said Tuesday. "They've been beating me up since the '90s and messed with my daughter, Jenny, when she was selling sweet corn from a picnic table at the corner."
He said he's just trying to run a small business for families. "Webster Township should put their arms around me and welcome me," he said, adding that he brings people into Dexter, and Jenny's "provides products that can't be found anywhere else."
The market is a popular destination, especially on weekends, for families seeking pumpkins, cider, doughnuts, and pony and hayrides.
The state, during its Oct. 7 inspection of the market at the corner of Island Lake and Dexter-Pinckney roads, seized about 75 pounds of baked goods, peanut butter spread and spices valued at $246 "for suspected adulteration due to processing under insanitary conditions" a report states.
Food produced at the market "will be appropriately seized and discarded," and "failure to cease production of your food product in the location at 8366 Island Lake Road will subject you to enforcement action, up to and including prosecution," according to the state's report.
The market had until Monday to correct the violations, the state said.
"It's still an ongoing investigation," Heather Throne, a public information officer from the department said Monday afternoon. She said she could not disclose more details.
But Hoey said the state gave the market a clean report on Monday. "All the violations were cleared up yesterday; she (the state inspector) approved everything in question," he said.
Hoey said the township is pushing the state to "harass" him. "We went to court three times and they lost every time, and I didn't even have a lawyer," he said.
He said the township has approved his site plan four times and he doesn't see a need to submit a new one. "I'm not going to spend $50,000 to change my parking. Besides, the plans have been approved four times by Pindzia and the previous zoning inspector, and I haven't made any changes to the footprint."
Pindzia disagrees and said the township may seek a court order if Hoey does not comply with the shutdown request. "We can only get voluntary cooperation. It's up to the courts to close them down."
"I guess we'll find out this winter in court who's right," Hoey said.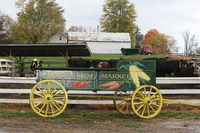 Lisa Allmendinger | AnnArbor.com
Though the business and township have had a long-running dispute regarding compliance with zoning regulations, Pindzia said it was the hayride accident that prompted the township to take more serious action. He stressed that the township would prefer to see Hoey comply with township ordinances voluntarily. He said he doesn't want to force him to close.
"We are seeking compliance with zoning ordinances; we don't want to see anyone get hurt and we've been working with him for years. We weren't trying to shut down the operation until the injuries occurred last month." Pindzia said.
A Jenny's market employee was seriously injured driving a horse-drawn hayride on Sept. 24 when she fell from the wagon and was run over by it. Authorities have not released her name.
On Oct. 9, a 22-month-old child fell off a pony while his father walked beside it at the market. The child was treated at the scene for injuries, then transported by ambulance.
Hoey said he's not responsible for the accidents. "I wasn't driving the horses. The horses are trained, and the equipment is fine. … . We're just trying to keep the moms and children happy and give them something special to do."
Food safety concerns
In June 2010, the State Department of Agriculture cited Jenny's Market for food law violations that included a lack of proper toilet facilities and lack of employee knowledge of food safety practices. In addition, the state put restrictions on the market's license until these and other violations were corrected.
The market is only allowed to sell whole uncut produce and prepackaged food products from approved sources. Employees are not to cut produce or prepare any foods in the facility or package or repackage bulk foods.
"Your firm has a history of food safety violations" the state order says, including "the processing of acidified foods without proper training, record keeping and adequate processing controls to assure that the canned foods manufactured at your facility were safe."
Hoey said he's complying with the state, that doughnuts and apple cider he sells are made off site and brought to the market daily.
The state found other issues as well, including the use of "the food facility as a living quarters," which is expressly prohibited by the food code. In addition, the state said Jenny's was allowing companion animals and livestock access to the food facility and cited the business for other sanitation and "lack of active managerial control issues."
Also, the letter states, "of primary concern to MDA, have been your comments and actions that have been perceived as a threat to our staff's personal safety."
The June agreement stipulated that a shotgun should be removed from the facility.
Hoey said he didn't know anything about a shotgun.
The limitations the state imposed in June 2010 are still in effect and, following the Oct. 7 inspection, the Department of Agriculture ordered Jenny's to "cease and desist any further production and/or repackaging of food products. Any food you continue to make and sell must be produced and packaged in an establishment approved by the Michigan Department of Agriculture and Rural Development, and in which you hold a license."
Following a review last year of both the water and sewer systems by the Washtenaw County Environmental Health Division, Jenny's installed a new well on the property and a new wastewater system. According to the county, both were completed and given final approval on Feb. 28, 2011.
However, neither the county nor the township is aware of bathroom facilities with sinks, which would satisfy one of the state's requirements for lifting the restricted operating license.
Hoey said he's had portable toilets on site for 15 years that have hand-washing facilities. "I put in a new well and drain field and have tried to put in a bathroom but Bruce (Pindzia) refuses to give me a permit; I don't know why I need a permit."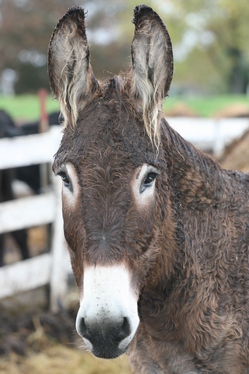 Lisa Allmendinger | AnnArbor.com
Long-running battle
Documents obtained through a Freedom of Information request show that Jenny's Market has a long history of violations with Webster Township.
Pindzia said the township is concerned about the expansion of the business over a number of years without proper permits.
"Your business began as a roadside stand," the stop work order says. "Fruits and vegetables were sold by your daughter from a wagon. Since this activity began in the early 1990s, the business has expanded to include processed foods, petting zoo, straw maze, cider mill, concert venues and other activities."
The township first cited the market with 18 zoning violations in 2008, beginning with sign violations. The township took the market to court and lost the case in March 2010 when Judge Richard Conlin ruled that evidence showed Jenny's had had similar signs since the early 1980s, prior to the township's 1985 ordinance. The judge ruled that the signs were "grandfathered in." The township appealed the decision and lost again in district court.
The buildings, however, were all constructed after the adoption of the current township zoning ordinance. "As such, your land uses require a special use permit … which requires the submittal of a site plan," an April 20 letter to Hoey states.
There have been sketches of what's on the site and what's proposed for the site, but never a professionally prepared site plan, Pindzia said.
The market has applied for the required permits several times but township officials said that all the required information has not been supplied with the paperwork, and the requests have been denied.
Hoey said what he submitted to the township was approved four times and no changes have been made on the property since then.
The township says structures on the 12.3-acre property are too close to Island Lake Road. Aerial photographs show they are only 80-90 feet from the center line of the road, when zoning regulations require them to be 110 feet from the road.
Hoey said the photographs are inaccurate, and he's invited township officials to survey it themselves.
The township also says the business violates off-street parking regulations by allowing parking in the front yard and not having a paved parking or loading area. Township officials have also complained about semi trucks blocking traffic on Island Lake Road when entering and leaving the property and customers parking along the road and crossing back and forth across busy Dexter-Pinckney Road, traveled by about 20,000 cars daily.
According to minutes of an April 12 Zoning Board of Appeals meeting, Hoey said that the parking and loading space was approved by former zoning administrators.
Hoey said the township "picks and chooses who they like to pick on," and "that the township has previously approved everything that it says is wrong."
Lisa Allmendinger is a regional reporter for AnnArbor.com. She can be reached at lisaallmendinger@annarbor.com.