Posted on
Wed, May 30, 2012 : 8:03 a.m.
Jolly Pumpkin gets Dexter's OK for 3 liquor licenses at proposed new facility
By Lisa Allmendinger
The Jolly Pumpkin will be able to seek new beer, wine and small distillery licenses from Michigan, making way for the company to redevelop the former Martinrea/Pilot building in the industrial park on Bishop Circle.
The Dexter Village Council on Tuesday unanimously granted that request by Northern United Brewing Company LLC. Village Council approval is needed before the company can apply to the state for the licenses.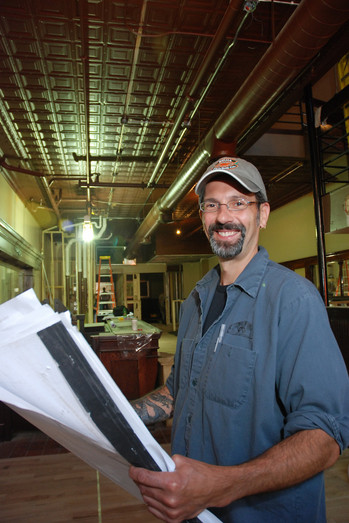 A tasting room, which will be open from 10 a.m. to 10 p.m., is part of the company's plan for part of the 68,000-square-foot manufacturing plant, which will be located in the village's business park at 2319 Bishop Circle.
The company has a purchase agreement for the property and the closing is still pending, Courtney Nicholls, assistant village manager, said in a May 3 memo to the Village Council.
Before the vote Tuesday night, Council Member Paul Cousins reiterated his concerns about the hours that the tasting room will be allowed to be open.
"I don't want them to have restrictions when I know there are four other liquor licenses in the village with no restrictions," he said, while acknowledging that because this facility is located in the business park, there are other zoning considerations that need to be approved by the Planning Commission.
Zoning approval is necessary because the company is located in a research and development district, which does not currently have provisions for a tasting room.
"The applicant has requested that the village proceed with the liquor license approval due to the time that it takes (with the state) to complete the process," Allison Bishop, community development manager, told the Village Council earlier this month.
But Cousins wanted to make sure that if a special event were to be planned there that the company would be able to extend the hours of its tasting room.
"If they let us know that they need it for a special event to stay open longer, I'll approve it," said Council President Shawn Keough.
"So, they can write us a letter about it and we'll approve it?" Council Member Joe Semifero asked.
Keough said that the village has had no problems with its current liquor licenses and he'd be willing to work with the company if they made a request for extended hours for a special event. The company has three locations - in Dexter, Traverse City and Ann Arbor - and plans to use the new Dexter location as its beer, spirit and wine manufacturing plant. It also would relocate its headquarters from Ann Arbor to Dexter.
There are no plans for food sales or outdoor seating at the Dexter site.
The Planning Commission is expected to discuss the company's plans at its meeting on June 4.
Lisa Allmendinger is a regional reporter for AnnArbor.com. She can be reached at lisaallmendinger@annarbor.com. For more Dexter stories, visit our Dexter page.