Posted on
Thu, Jun 21, 2012 : 8:43 p.m.
Violent storm hits area: 'We're going to start calling Dexter the new Kansas'
By Lisa Allmendinger
Amy Lesser said the violent storm Thursday evening that toppled a large walnut tree in the front yard of her Island Lake Road home in Dexter Township appeared so quickly, she doesn't really remember much about it.
Across the street, on another part of the family farm, the wind picked up a shed, destroyed it and littered the immediate area with metal debris. The storm also flipped two wagons, but there was no damage to the Lesser family's 1832 farm house that Amy said was built by the second settler in Dexter.
"It hit so fast, I don't remember much, but I know I was screaming," she said, adding she and her children raced down the stairs to the basement to safety. "We'd practiced what to do."
Still shaken from the experience an hour later, she said the house was surrounded by swirling wind and gray skies, "tornado-y stuff."
Lesser said the storm lasted maybe 3 seconds, but trees on Island Lake Road and in the nearby area on McKinley and Waterloo roads were twisted around each other. Neighbors said the way the trees were gnarled and felled, they were sure it was another tornado.
"We're going to start calling Dexter the new Kansas," Lesser said.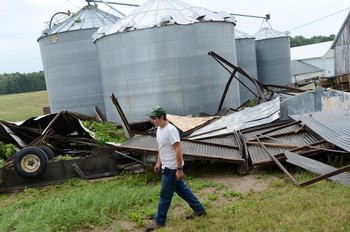 Melanie Maxwell I AnnArbor.com
A
March 15 EF-3 tornado
that struck the Dexter area caused more than $9 million in damages.
Dale Lesser said another tornado in 1988 went over the house and he felt that same sensation in his ears Thursday. "Look at the woods in the back, it sheared the trees right off," he said.
The storm also cut through the family's fruit orchards, Carl Lesser said. Marc Breckenridge, director of emergency services in Washtenaw County, told AnnArbor.com Thursday evening that the storm was not a tornado, but may have been some isolated wind damage. Reports indicted that trees fell throughout the areas northwest of Dexter, including some that fell on barns and outbuildings.
Lesser said she saw the storm approaching and raced home after picking up her 9-year-old daughter, Amanda, from swimming. "I never go that fast," she said. "I just knew I needed to get home."
The National Weather Service issued a severe thunderstorm warning around 4:20 p.m. for much of Washtenaw County, saying winds up to 60 mph were possible.
Amy Lesser and husband, Tom, are the fifth generation of the Lesser family to live in the home.
"The house is OK. We're OK. The barns are OK, my birthday's tomorrow, and this is the best present I could have," she said of the home where she's lived for the last 16 years.
And, although they have no power, Amy Lesser said that was OK, too. "We have candles. We have water, it's just a tree out front and everyone's fine."
A few miles away, Jerry Gillikin was cleaning up debris from two trees that almost landed on him as he headed home.
He said he was on at the BP station on Fletcher Road and as he got closer to his home on McKinley Road, it was raining so hard he couldn't see as he got close to his driveway.
"It was sheets of water and I couldn't see. I knew that trees could be down, and in my rearview mirror a tree fell just behind me and then another one fell in front of me," he said, recalling the near-misses he experienced with the fast-moving storm.
After 5:30 p.m. Thursday, Dexter Area Fire Department fanned out into three different areas in the township and Washtenaw County Road Commission crews arrived in the area with chainsaws to open roads that had large trees across them.

View Severe Weather 2012 in a larger map
Lisa Allmendinger is a regional reporter for AnnArbor.com. She can be reached at lisaallmendinger@annarbor.com.