Posted on
Tue, Nov 15, 2011 : 7:03 p.m.
Mill Creek buck pole in Dexter beginning to fill on first day of firearm season
By Lisa Allmendinger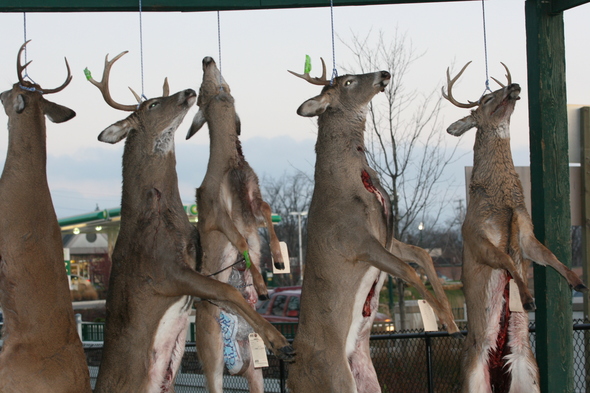 Lisa Allmendinger | AnnArbor.com
Related: Send in your photos for the AnnArbor.com Virtual Buck Pole
Despite the mild weather Tuesday afternoon, there were six deer hanging from the Mill Creek Sport Center buck pole just outside downtown Dexter as the first day of deer firearm season drew to a close.
"It's supposed to get cold tonight and tomorrow, and we expect a lot more," said Maureen Heikkinen, general manager of Mill Creek, who said many times hunters wait until the sun has set to arrive.
Hunters tend not to hang their deer if the temperatures get too warm because they don't want the meat to spoil. And several at the buck pole were stuffed with bags of ice to keep the meat cool.
She said there have been 40 to 50 hanging from the pole at one time, but the hunters are only required to keep them there for 24 hours to get a raffle ticket for the drawing held at the sport center.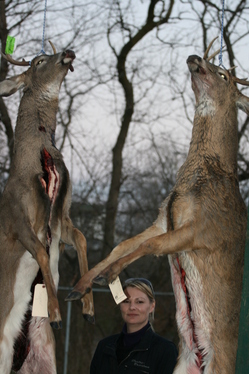 Lisa Allmendinger | AnnArbor.com
"It's about promoting ethical hunting as a whole, not about the biggest buck. People feed their families with them," she said.
First to arrive on the pole was a button buck shot by 10-year-old Joey Ferullo of Ypsilanti. It was his first deer.
"We tried to hang it by the antlers, but since it was a button buck … (a young male with small lumps where the antlers normally are)," she said. "You can see, we did the best they could. "
Max Mason, 13, of Chelsea, also shot his first deer, and it went up later in the evening adding to the total.
Glen Bolling of Ann Arbor, the sport center's gunsmith, said he was busy mounting scopes, cleaning and making repairs for the last six weeks. "I saw a lot more older guns this year," he said.
Mill Creek has been in business just outside downtown Dexter since 1948, and Heikkinen said 2,000 to 3,000 people stop by to see the bucks during the three days that the pole is up.
Today, the opening day of firearm season was the first day.
"So many people come and go," she said, adding that there is not only a fence around the property but also a guard on duty all night so the deer aren't disturbed.
People stop and take photos throughout the day and night and sometimes they just honk their horns, she said.
"It's been said that during hunting season, it's the third largest Army that's out in the woods," she said.
The largest buck Heikkinen and Bolling could remember had 22 points on its antlers.
"Eight-, 10-, 12-pointers are pretty normal," Heikkinen said of the bucks that are brought for display and hung on the pole.
The deer firearm season runs through Nov. 30.
Lisa Allmendinger is a regional reporter for AnnArbor.com. She can be reached at lisaallmendinger@annarbor.com. For more Dexter stories, visit our Dexter page.