Posted on
Mon, Sep 26, 2011 : 12:37 p.m.
Michigan workplace safety officials investigating hayride accident at Jenny's Dexter Market
By Cindy Heflin
The Michigan Occupational Safety and Health Administration is now investigating an accident that injured a worker on a hayride at Jenny's Dexter Market on Saturday.
Elaine Clapp, safety and health manager for the General Industry Safety and Health Division, said a MIOSHA investigator went to the Dexter area business today.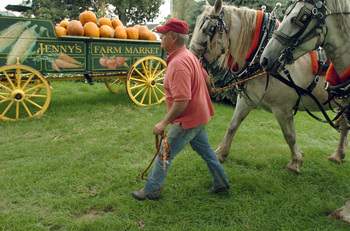 File photo
Jenny's owner,
Burton Hoey
, was not available for comment today, said Jessica Reeve, who said she is the farm stand manager for the business.
Reeve said a MIOSHA investigator who came to the business today said he would return on Tuesday because Hoey was not there today.
Clapp said the investigation will include interviews with employees and the owner to determine if there have been violations of MIOSHA standards.
The penalty for such a violation is generally a citation that could include a fine, Clapp said. Such investigations normally take several weeks, she said.
Clapp cold not provide specific information about what standards the investigator would be checking to see were followed.
"At any workplace it will depend on the specifics," she said. MIOSHA has no standards specifically for hayrides, she said.
Washtenaw County Sheriff's Office spokesman Derrick Jackson said today the department is also investigating the accident, but he had no further information.
Hoey said Sunday that hayrides at the business have been discontinued indefinitely following the accident.
The farm market, located at the intersection of Dexter-Pinckney and Island Lake roads, is a popular local attraction.
Hoey said the worker, a 23-year-old woman, was leading the hayride and holding tight to the reins when one of the horses tripped and lunged forward, pulling her off the wagon.
Firefighters reportedly arrived shortly before 2 p.m., and found the injured woman lying in a field. Dexter Fire Lt. Michael Grissom said Sunday that the woman "didn't have the feeling she should have had in her lower extremities" on Saturday.
She was conscious and alert and was flown by a Survival Flight helicopter to the University of Michigan Hospital, where she was undergoing treatment.
An update on her condition was not available today. Her name has not been released.