Posted on
Wed, Jan 18, 2012 : 5:58 a.m.
No opposition expressed to Dexter cityhood plans at public hearing
By Lisa Allmendinger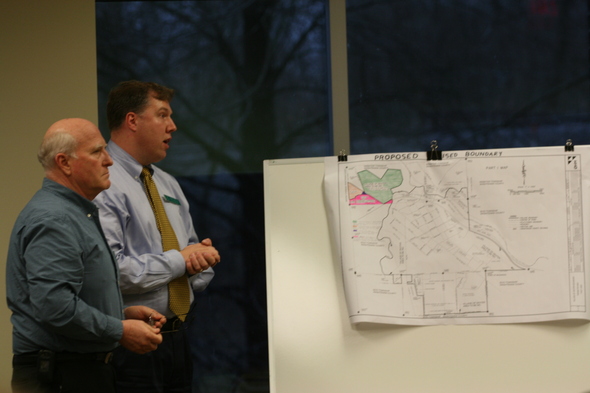 Lisa Allmendinger | AnnArbor.com
Although close to 60 people attended the State Boundary Commission public hearing at the
Dexter
Library Tuesday afternoon, only five spoke and none opposed the Village of Dexter becoming a
home rule city
.
Three people spoke in favor of the village's quest to become a city and two took no stance on the issue in a meeting that lasted less than 45 minutes.
Libby Beal, a member of the village's cityhood committee that voted 17-1 to go forward with cityhood, said she saw benefits to "being masters of our own destiny," and supported the village's effort.
Dexter Village President Shawn Keough and Webster Township Supervisor John Kingsley stood together proposing a new boundary that had been modified by mutual consent and differs slightly from the one found "legally sufficient" by the state in October.
The new boundary does not include Gordon Hall or the back half of the Mill Creek Sporting Goods property, which are both in Webster Township.
Both Webster Township and the Dexter Area Historical Society voiced objections to the inclusion of Gordon Hall in the proposed boundaries because of easement agreements on the property. The land is part of a 425 agreement between the village and Webster Township, which says that if the village becomes a city, it is responsible for paying taxes to the township for 12 years on the property. Dexter Area Historical Society President Gil Campbell also lent his approval to the new boundary although he did not take a stand on the cityhood issue.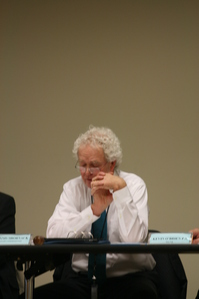 Lisa Allmendinger | AnnArbor.com
Boundary Commission Chairman
Dennis Schornak
said the village originally submitted its petition on Dec. 22, 2010, and a boundary for the proposed home rule city was approved on Oct. 24, 2011. This public hearing was the next step in the process.
"We feel we are ready to take this step," Keough said.
Not everyone at the meeting liked the boundaries though. "The original boundaries made sense," said James Stewart, one of the state representatives at the public hearing. "The new boundaries do not make sense."
However, Boundary Commissioner Wes Prater of York Township said, "I feel that the communities have worked together for something that works for them."
It will take about three months for the boundary commission to make a recommendation and following the hearing people have until Feb. 16 at 5 p.m. to submit comments in writing to the state on docket No. #10-I-2. Written comments can be sent to the Department of Licensing and Regulatory Affairs, State Boundary Commission, Bureau of Construction Codes, P.O. Box 30254, Lansing, Mich. 48909 or via email to obrienk@michigan.gov.
Lisa Allmendinger is a regional reporter for AnnArbor.com. She can be reached at lisaallmendinger@annarbor.com. For more Dexter stories, visit our Dexter page.