Posted on
Thu, Mar 14, 2013 : 5:59 a.m.
One year later: Tornado that tore Dexter apart also brought community together
By John Counts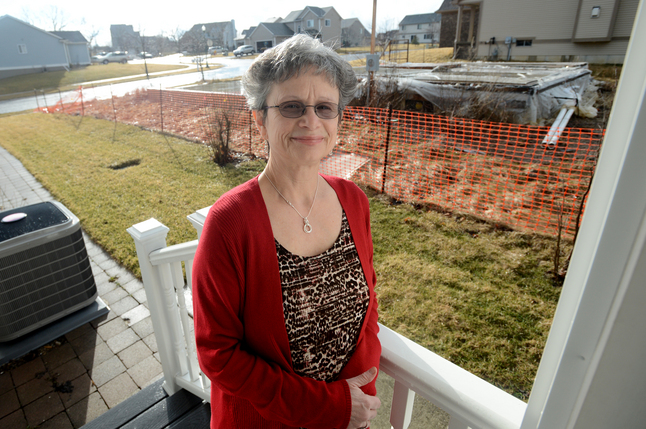 Melanie Maxwell | AnnArbor.com
It started out as an abnormally warm late winter day one year ago.
By the time night fell on the Dexter area March 15, 2012, however, a tornado had twisted its way over the region, irrevocably changing the landscape and the residents who live there.
It came in quick and unpredictable, bringing down entire homes in its 7.2 mile path. It lifted roofs off homes and shattered windows. It ripped 100-plus-year-old trees from the ground as if they were toothpicks and left them toppled in backyards and roads. When it was over, the storm had affected 266 homes, caused $9.1 million in damage and cost agencies an additional $1.2 million in municipal debris cleanup, figures from Washtenaw County's emergency management division show.
Still, some effects linger. Glass from broken windows is buried in the blades of yard grass because many insurance companies would not pay for a lawn vacuuming. Some residents, like the Molnars of Carriage Hills, chose to undertake home remodeling projects and continue to live in construction zones. Sixteen new tornado sirens dot Dexter Township. More are planned across Washtenaw County.
Despite its fury, the great storm could not break the spirit of the Dexter community, though. A year later, officials and residents say the storm brought them closer together.
"The healing process was embraced by the community at large," said Dexter Village President Shawn Keough. "You realize just how important the basic elements of your everyday life really are. It's truly a blessing that nobody was hurt or killed. We feel very thankful for the simple elements of life: a home, car, your own bedroom, a roof over your head. If we weren't thankful for those things before, I think we all are now."
Tornado stories
The twister first touched down at 5:17 p.m. northeast of North Territorial and Dexter Townhall roads. At that point, it was what the weather service classifies as an EF-1 tornado. The weather service rates tornadoes on the Enhanced Fujita Scale from EF-0 to EF-5. The Dexter tornado was an EF-3 storm at its strongest point with winds of 135 to 140 mph.
The storm hit everyone a little differently. A few lost their homes entirely. Many had roof and shingle damage. Some lucky folks escaped any destruction altogether.
But everyone who was in the Dexter area that day has one thing in common: a tornado story.
The stories have some common features: Where were you when the storm hit? What did the storm sound like as it was coming in? What did the sky look like?
Duane Newland, who lives in the Loch Alpine neighborhood, was at Bel-Mark Lanes getting ready to roll a few frames. Mercedes Barcia, of Orchard River Hills, said the tornado sounded like a freight train. Katrina Williamson said when she saw the storm from the window of her Huron Farms home it looked as if the sky where whirling like the inside of a cotton candy machine.
Nowhere were those stories told more often than at the Family Barber Shop on Main Street in downtown Dexter, said Maryann Doletzky who cuts hair there along with her dad, Dick, who has been a barber in the same Main Street storefront for 50 years.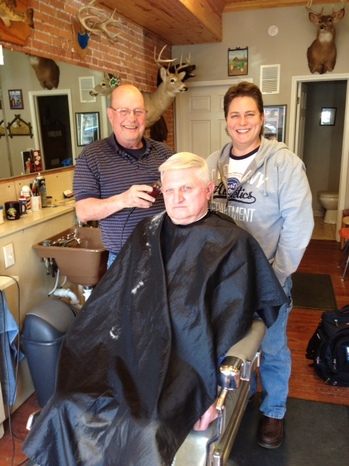 John Counts | AnnArbor.com
"It's funny being in here," she said. "Everyone for the first month was like, 'Where were you at during the tornado?' We still talk about tornado stories in here."
In addition to running a Main Street barbershop for half a century, the Doletzky family once owned the farmland where the one of the hardest-hit neighborhoods was eventually built. That neighborhood, Carriage Hills, was the first one hit by the tornado as it made its southeasterly swipe at the region.
Dick and Maryann Doletzky both live on nearby Fleming Road in separate homes, along with other members of the Doletzky clan. The damage to their homes and property paled in comparison to the destruction of Carriage Hills, they said.
Maryann's roof was pulled away from the house and wasn't fully repaired for several months after the storm. Most noticeable a year later, she said, are the missing trees that have opened up the once-wooded neighborhood.
"The landscape has changed," Maryann said.
It had been reported that some of the trees were likely 100 years old. Dick Doletzky said some of the trees had to be older than that.
"I'm 72 years old and they were old trees when I was a kid," he said with a laugh.
'A whole different neighborhood'
Carriage Hills resident Fred Molnar said he lost about 30 trees on his three and a half acres, a few of which were very old.
"It's a whole different neighborhood," he said.
While the downed trees have been mostly cleaned up on his property, inside the Molnar house is a whole different story. The home on Timber Hill Court still is very much under construction.
Studs and trusses are still visible throughout Molnar's house. Tools and building materials are strewn about. Molnar said he and his family, which includes his wife and three children, have lived in the house without a kitchen since the storm damaged their house, blowing down a wall.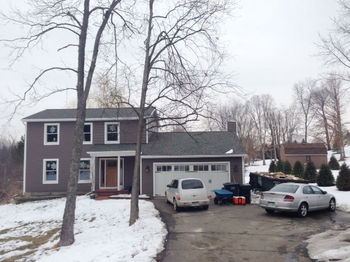 John Counts | AnnArbor.com
"It's really hard," Molnar said about living without a kitchen for so long. "We have a stove here, a sink and a microwave, that's pretty much it." Molnar's quick to admit that it was all by choice. The storm offered him the opportunity to tackle a much-larger remodeling project, including putting in a new kitchen, which wasn't damaged in the storm.
"If we wouldn't have done this stuff internally, we would be done right now," he said. "We can see the light at the end of the tunnel."
Molnar has his own storm story, of course. He watched it roll in from his back porch.
"When you see that stuff on TV, you really can't relate to it," he said. "Now that I've gone through it, it's a whole different perspective."
Molnar had a shoulder operation just days earlier.
"The biggest event of my life and I'm in a sling," he said with a smile. "I was so helpless."
His neighbors came to his aid, helping him cut and clear fallen trees from his property.
"I think everyone's pulled together," he said.
Thousands of trees
After hitting Carriage Hills, the tornado tore south down Dexter-Pinckney Road and over the golf course at Hudson Mills Metropark, uprooting hundreds of trees.
"There used to be gigantic trees through here," said Dexter Fire Chief Loren Yates while driving Dexter-Pinckney Road last week. "In the summer, it would just be a canopy."
There are barely any trees left lining the side of the road. The nearby golf course also suffered extensive tree loss, said Troy Rice, the course's maintenance supervisor, who estimated that thousands of trees were uprooted.
"It was sad to see (the loss) of some of the more mature trees from the grounds," he said.
In fact, there are still some trees knocked down by the storm that lie where they fell, specifically on the sixth and seventh holes. Some of the damage in the park will be memorialized with signs along the new West River Bike Trail, Rice said, who added that if anything, the storm had actually improved the course.
Flying sheds and trampolines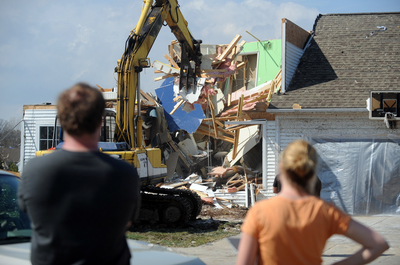 Angela Cesere | AnnArbor.com file photo
What still surprises many a year later is that, despite the immense destructive nature of the storm, no one was injured — let alone killed. Also surprising to officials like Yates is how the tornado seemed to hop across the area.
"It's amazing how a tornado will hit one area, pick up and miss the other area," he said.
After sweeping through the golf course, the storm headed south toward the businesses along Main Street. And completely missed them.
Except, that is, for the Village Car Wash and Laundry on Second Street, which was not standing at the end of the day. The car wash still has yet reopen, but is under construction. The owners did not wish to participate in this story.
Breanne Buschlen, a waitress at the Dexter Coney Island, lives down the street from the car wash. She also has a tornado story.
"You could feel the walls shaking," she said about being in her apartment that day. "Someone's shed flew by and hit a telephone pole. There was a trampoline wrapped around the railing." For months, the tornado was the topic of conversation at the coney restaurant. Not so much anymore, Bushlen said.
"Overall, you don't hear that much about it anymore," she said. "A lot of people are happy because their houses are rebuilt. Most people have moved back into their homes is what I've heard."
'The house that is no more'
This is true for most of the residents in Huron Farms, people like Katherine Pfeiffer and Matt and Heather Leszczynski, whose homes were both extensively damaged in the storm.
It's also true for Barcia, who lives in the 7100 block of Wilson, right next to the empty slab where a house destroyed by the tornado was never rebuilt. Barcia calls it "the house that is no more."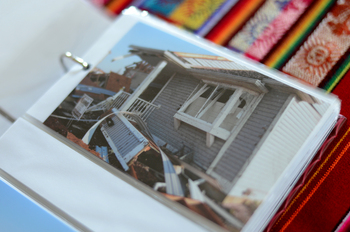 Melanie Maxwell I AnnArbor.com
Barcia's house was ripped in half, with only the two bedrooms left standing, she said. While she may be back in her house, which was finished in August, she doesn't feel completely settled.
"It's coming up on a year and my anxiety level is high," she said. "Now, whenever there's bad weather I get anxious." As for the empty lot next door, she said she last saw the man who owned the house in August when he told her he was planning to rebuild.
Tax records show the man who owns the property is Mechial White, the musician profiled by AnnArbor.com a day after the storm. Attempts to reach White about what he plans on doing with the property were unsuccessful.
One-year anniversary
Keough said he's heard different reactions from people about what they plan to do for the one-year anniversary Friday. Some folks in Dexter told him they plan on being around and attending an open house at LaFontaine Chevrolet, at 7120 Dexter-Ann Arbor Road.
Others don't plan on being anywhere near Dexter because of the bad memories, he said.
Those who attend the open house, which runs from 3 to 7 p.m., can apply to get help from the Dexter Tornado Relief Fund, which still has about $37,000 in it, Faith in Action director Nancy Paul said.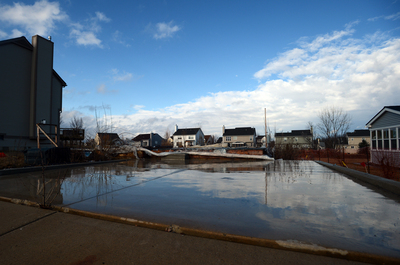 Melanie Maxwell | AnnArbor.com
The money will be available mostly for tree replanting efforts and the glass-in-the-grass problem, she added.
The relief fund, established quickly after the tornado hit, will soon quietly be shut down. It raised about $330,000 in the months immediately following the storm.
"We want to spend the money. For the most part, we have the sense that most people's emergency needs have been taken care of," Paul said. "From our side, it feels good to be done."
There will be food, games and a video booth for storytelling at the event, as well.
Another event marking the one-year anniversary is the Dexter F 3.1 Tornado Run/Walk, which will be held Friday night at Hudson Mills Metropark starting at 7 p.m.
Emergency officials say they are even more prepared now than they were a year ago. Yates said everything went as smoothly as it could last year. The only glitch he could think of were some issues with a new communications network that allows one agency to talk to another.
Marc Breckenridge, director of Emergency Management for Washtenaw County, also said there were some communication problems as a result of the new system, but they have since been worked out.
"We think we're ready again for another one," he said.
More sirens are expected to pop up around the county, as well. Dexter Township put up 16 since the tornado. A federal grant from the Department of Homeland Security will aid in getting about 27 more throughout the county, Breckenridge said, meaning that 75 percent of the population will be within earshot of a siren. That number is currently around 65 percent. Where the sirens will go is still being determined.
Breckenbridge believes sirens played a crucial role in getting people to safety during the tornado.
"That's why we think there were zero injuries and zero deaths," he said.
That was one thing officials and residents agreed on: No matter how devastating the storm was to homes and possessions, no one was hurt.
And now that the major cleanup is over, officials and residents also agree that the same storm that tore so much apart also brought the community together.
"I think that spirit still lives," said Newland, a Dexter Rotarian who plans on helping out with Arbor Day tree plantings. "I think the community has strengthened as a result."
John Counts covers cops and courts for AnnArbor.com. He can be reached at johncounts@annarbor.com or you can follow him on Twitter.