Posted on
Mon, Aug 16, 2010 : 5:59 a.m.
Owner of Ann Arbor's Cafe Felix to open family-friendly restaurant in Dexter
By Lisa Carolin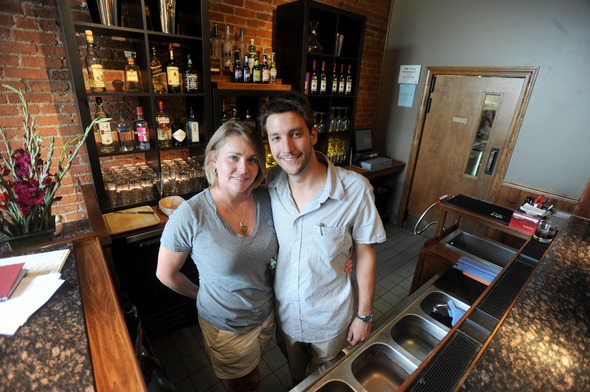 Photos by Angela Cesere | AnnArbor.com
Families in Dexter looking for a simple, good meal after spending some quality time together can look forward to a new downtown restaurant by one of the owners of Café Felix in Ann Arbor.
Red Brick Kitchen and Bar is taking over the empty space at 8093 Main St. that used to be the home of Bistro Renaissance.
The family-friendly lunch and dinner restaurant is slated to open its doors Sept. 1.
Owner Peter Landrum, who has owned Cafe Felix in Ann Arbor along with his brothers for 13 years, moved to Dexter last year. His wife and her family are longtime Dexter residents, and it didn't take long for Landrum to feel at home in Dexter.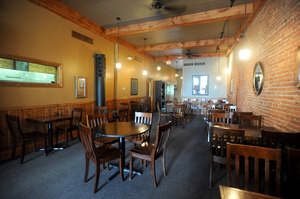 "I like getting to know people and seeing the familiar faces," says Landrum. "I want families to come by after a baseball game with their kids. We plan to have simple, good food and a relaxing feel to the place."
Landrum and his crew have been making a few changes inside and outside the space including painting and installing railings on the back porch. He hopes to get permission to put some tables on the sidewalk in front of the restaurant and may add a Sunday brunch once the business gets going.
As far as prices go, Landrum says that Red Brick's prices will be geared toward families. Bistro Renaissance "had fabulous food, but it was just too pricey," he says.
Bistro Renaissance opened in April 2007 and closed in May of this year. According to Bistro Chef Lorin Shipps, the downturn in the state's economy had a negative impact on fine dining establishments, and the Bistro couldn't survive.
Mary Ann Falzon, executive director of the Dexter Area Chamber of Commerce, said businesses like Red Brick Kitchen and Bar choose to locate in Dexter because it offers a small-town feel and a beautiful downtown. "I think it's exciting that a new restaurant filled the space so quickly, and it's a good fit," Falzon said.
Red Brick Kitchen and Bar will be open Mondays through Saturdays for lunch and dinner.
Lisa Carolin is a freelance writer for AnnArbor.com. Reach the news desk at news@annarbor.com or 734-623-2530.