Posted on
Fri, Aug 23, 2013 : 5:59 a.m.
Owner says closing of Stucchi's Ice Cream and Cafe in Dexter Friday is 'bittersweet'
By Ben Freed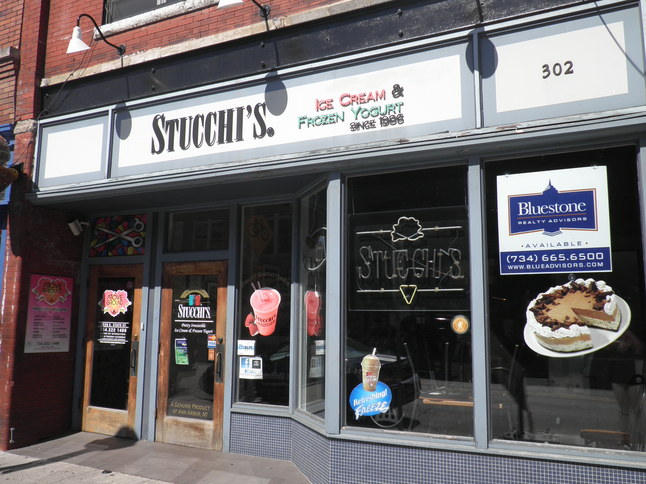 Lizzy Alfs | AnnArbor.com
Stucchi's Ice Cream and Cafe of Dexter
is preparing to serve up its final scoops.
Owner Jim Seta said that ice cream shop, which opened in 2007 and also houses a BearClaw Coffee and Mr. Pita, will close after business hours on Friday.
"Closing the Dexter location is bittersweet," Seta said.
"It's a fun place to be and it's unfortunate that it came to this decision, but business is business and we believe that if we want to focus on expanding our business, the location in Ann Arbor is the right place to do that."
Seta said that the closing of the Dexter store will allow him and his wife and co-owner Sarah to expand operations at the original Stucchi's location on South State Street in downtown Ann Arbor.
"We're looking at it as a consolidation. We're going to be taking a lot of the equipment we have in Dexter and moving it to South State Street," Seta said.
"We're going to bring in the BearClaw Coffee full espresso and coffee bar and we're also going to be expanding our dessert offerings."
Seta and his wife took over the downtown Ann Arbor Stucchi's location in December 2011 after the former owners had considered moving the store. At the time, Seta told AnnArbor.com that he was planning to eventually add chocolate and coffee offerings.
"The State Street store has been there for 26 years and it has met and exceeded all of our expectations since we took over," Jim said.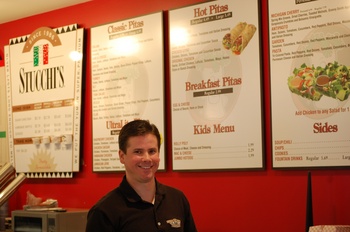 Photo by Janet Miller
"My wife is a great baker and we look forward to bringing more different options to the location. We've heard from customer feedback that they would like to see a bigger variety of dessert products on State Street and in the next month or so people will be able to get more than just ice cream when they come in."
The new dessert offerings will begin with a treat that has stood the test of time.
"Right now we're looking at bringing in the 'Chocolate Way' cookies that we sell in Dexter," he said.
"It's a 110-year-old chocolate chip cookie recipe from my wife's family and we use them as cookies and to make chocolate chip cookie ice cream sandwiches."
The additions to the downtown Ann Arbor store will include some slight remodeling, but Seta said that will be put off until the weather cools off.
"We may close for a few days between Christmas and New Year's, but we want it to be a time that will have minimal impact," he said.
"We really enjoy being a part of the fun experience on State Street and helping to create that great buzz when the students come back into town."
Stucchi's other downtown Ann Arbor location, on South University Avenue, also closed recently. Ashvin Amin, who also owned the State Street store before the Setas, owned that location before its closing. According to the company's website, the only remaining Stucchi's Ice Cream shop outside of Ann Arbor is in Alma, Mich..
Stucchi's ice cream is made in Fraser and can also be found at a number of local businesses, including Ahmo's Deli and Tios Mexican Cafe.
In 2008, the Stucchi's brand was sold to Michigan-based Papa Romano's Enterprise, now known as Askar Brands. Representatives from the parent company were unavailable for comment on the closing of the Dexter location.
Ben Freed covers business for AnnArbor.com. You can sign up here to receive Business Review updates every week. Get in touch with Ben at 734-623-2528 or email him at benfreed@annarbor.com. Follow him on twitter @BFreedinA2