Posted on
Sat, Dec 17, 2011 : 12:28 p.m.
Could Dexter have 'green energy' streetlights with wind turbines, solar panels at LaFontaine Chevrolet?
By Lisa Allmendinger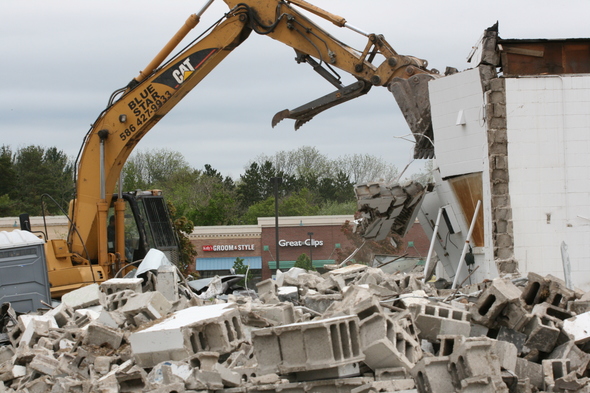 Lisa Allmendinger | AnnArbor.com
Dexter
's east entrance might have a very different look if the idea of one businessman becomes a reality.
Matt LaFontaine, general manager of LaFontaine Chevrolet, approached the Village of Dexter with a concept plan that includes a combination wind turbine, a solar panel and an LED streetlight manufactured by Urban Green Energy for the dealership at 7120 Dexter-Ann Arbor Road.
The decorative streetlight is a hybrid that's made of steel and powered by both wind and sun, which can be retrofitted to match what's already part of the village lighting landscape. LaFontaine said he was considering using them on up to seven streetlights at the site along Dexter-Ann Arbor Road.
The addition could become another green part of LaFontaine's new dealership plan that includes a 32,000-square-foot commercial building, office, auto repair shop and car wash, which is currently under construction.
The project is in the first of two phases that have been slowed by rainy weather this fall, but LaFontaine expects to have the flooring poured inside the first building by the end of January and to occupy that building by April, then move on to the second phase.
The site is being reconfigured for a two-phase development that includes the demolition of the used car trailer, existing sales building and changes to the west side of the site. Included in the plan is a new sales building, curbs, paving, lights and landscaping. LaFontaine said the Highland car dealership, which has a gold LEED (Leadership in Energy and Environmental Design) building certification for design, construction and operation is being used by the town's school district, as well as other cities, as an education tool. He'd like the new Dexter dealership to be looked at as a business leader in environmentally friendly practices.
He hopes to achieve a silver LEED rating in Dexter, which includes a charging station for four to eight electric vehicles and a solar roof on the building.
By showcasing the decorative on-site renewable energy streetlights, the 20-foot turbine could be a focal point that sends a message that Dexter is environmentally conscious, he said, and the lights also could be used as an educational tool for schools.
Village President Shawn Keough said he thought the idea "was really cool" and something that perhaps the village could look at as part of its park plan on the west entrance to the village and the unique eco-friendly street lights could become "a common thread."
He said he'd asked LaFontaine to introduce his idea to the Village Council to get their opinions.
Currently, the village does not have any ordinances governing alternative energy sources such as wind turbines, but this small streetlight design, which includes a turbine and solar panel, can be modified to match the decorative street lighting that's currently in the village.
LaFontaine said the decorative streetlights could become a trademark for Dexter "It could make us unique," he said, adding that he'd like the turbine to be incorporated into a planned piece of public art slated for the corner of Dexter Ann Arbor Road and Ryan Drive.
He plans to next take his green idea to the village's Arts, Culture and Heritage Committee for their input.
The Planning Commission, during its final review of the plan, said that this corner is a significant intersection in the village and requested a prominent architectural feature or positive visual landmark to meet the village's landscape and architectural standards.
The new dealership is an about $7 million investment in the village that is expected to add 50 to 100 new jobs with sales of about 2,000 cars a year.
Lisa Allmendinger is a regional reporter for AnnArbor.com. She can be reached at lisaallmendinger@annarbor.com. For more Dexter stories, visit our Dexter page.