As road work continues in Dexter, residents asked to stay off new pavement
Posted on Fri, May 11, 2012 : 6:15 p.m.
As the Village of Dexter's $250,000 Main Street road construction project reaches the paving stage, officials are asking residents not to walk on the new pavement just after it's been applied because a sticky substance will stick to shoes.
The project from Baker Road to Jeffords, began in mid-April and was expected to last a maximum of six weeks with about four weeks of road closures.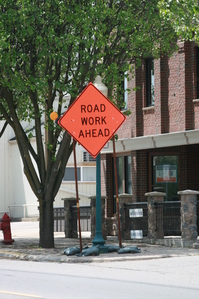 file photo
Included in the project is the addition of stamped colored concrete crosswalks throughout the downtown. However, the crosswalk near the former Dexter Pharmacy and Huron Camera was removed.
Although the project is moving along, it's caused headaches for downtown businesses because visitors have been unable to park in front of their stores. Village staff members have alerted residents and visitors downtown to detours and alternate parking areas. It's expected that the project will be completed by low bidder, Pro-Line Asphalt Paving of Washington Township, by Memorial Day.
Paving is expected to begin early next week, and village officials warned that the contractor will spray a layer of tack coat on the pavement, which, if walked on, will be tracked onto sidewalks and brick pavers.
Tack coat is used to bond layers of pavement together. Officials ask that residents avoid tracking the coating onto the existing concrete or pavers.
Here's a poster from the village. TrackTack.pdf explaining the situation.
For more Dexter stories, visit our Dexter page.