Posted on
Sat, Feb 4, 2012 : 5:57 a.m.
Public art may be coming to Dexter as early as this summer
By Lisa Allmendinger
Public art will become part of the Village of Dexter's landscape, perhaps as soon as early summer.
After several draft public art plans were tweaked by the Dexter Village Council, a final version was recently unanimously approved by elected officials making way for the selection of the village's first temporary pieces.
Click here to view the plan.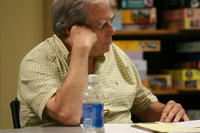 Lisa Allmendinger | AnnArbor.com
"I'm happy it's moving forward and it's a great start, an excellent start," said Council Member
Paul Cousins
, who is also is the council representative to the Arts, Culture and Heritage Committee, which put together the plan.
The committee "advises the Village Council on the development of arts, culture and heritage; promotes and publicizes projects that support arts, culture and heritage; serves as advocates for arts, culture, and heritage and encourages networking and collaborations of the arts, culture, and heritage of the Village of Dexter," according to its mission.
"I think people will be pleased with this and it will be great for the village," Cousins said.
About $10,000 per year will be added to the general fund budget for art and permanent signage beginning in 2012 and a stipend of $200 per artist will be given to artists selected to have their art on temporary display, according to the plan.
This differs from the way Ann Arbor funds its public art. The city captures 1 percent of new project costs.
The plan has been vetted by both the village's Planning Commission and its Parks and Recreation Commission and it includes beginning the program with temporary pieces rather than permanent ones, a change in focus since the first plan.
A selection committee will help choose the public art pieces, but the Village Council will have the final say on which pieces are displayed.
"Creating attractive public art spaces provides a value-added experience for residents, merchants, customers and other visitors to a community," according to the plan. "One way to enhance the look of public spaces is through the display of public art."
Formed in June 2008 with five members, the committee is now comprised of 11 members who hope to create a temporary art installation this year "to introduce the idea of public art."
Potential locations include:
Mill Creek Park area
Jeffords and Main Street
Peace Park
Downtown along Main Street
The projects could include sculpture, mosaics, decorative paths, historical signage functional art and or furniture art.
There will be revolving art and permanent art, Cousins said, and the committee is looking for an additional member. The group meets on the first Tuesday of the month at 7 p.m.
"We decided to introduce this to the community with a temporary display, and in 2013 start talking about a permanent one, "said Courtney Nicholls, assistant village manager. The plan creates a Public Art Selection Committee that includes two at-large village residents to make recommendations to Village Council on temporary and permanent art installations in the village. To apply for a position, complete an application and return it to the Village Offices or email it to cnicholls@villageofdexter.org.
Lisa Allmendinger is a regional reporter for AnnArbor.com. She can be reached at lisaallmendinger@annarbor.com. For more Dexter stories, visit our Dexter page.