Posted on
Fri, Mar 23, 2012 : 10:55 a.m.
Stuck truck blocks traffic on Main Street in Dexter
By Cindy Heflin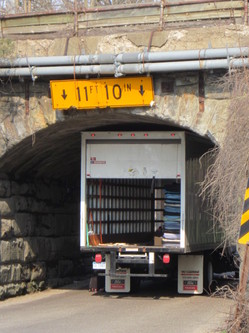 Photo courtesy of Rina Miller
A semi truck didn't have quite enough room to make it through the railroad underpass on Main Street in Dexter Friday morning. It became stuck and blocked traffic for several minutes on the busy route.
Washtenaw County sheriff's deputies responded to help clear the intersection. They let the air out of the tires and backed the truck up, said sheriff's department spokesman Derrick Jackson.
The accident also caused some damage to the railroad bridge, Jackson said. Representatives of Norfolk Southern, which owns the tracks, were on the way to evaluate that, but it was not expected to affect train travel, Jackson said.
The truck got stuck about 9:30 a.m. It was not clear how long the underpass, on the main thoroughfare through Dexter, was blocked.

View Railroad underpass in a larger map