Webster Township Board reverses decision, will allow Gordon Hall fundraiser
Posted on Wed, Apr 25, 2012 : 7:45 a.m.
In a 6-0 decision, the Webster Township Board Tuesday night reversed its decision from last week and will now grant the Dexter Area Historical Society a festival permit for Civil War Days, a June fundraising event at historic Gordon Hall.
The board voted 4-3 (Trustee John Westman was absent Tuesday), last week to deny the permit because of concerns about allowing parking on a conservation easement that the historical society sold to Webster Township for $33,000. It was the first money the township spent from a half-mill land preservation tax approved by township voters in August 2005.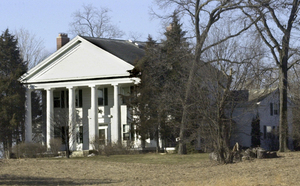 But the historical society said it would default on its mortgage for Gordon Hall without the fundraiser, and the board said it wanted to support the group.
The plan is to use the southeast side of the property, located in Scio Township, for parking, but cars still have to drive over a part of a hay field in Webster Township to get to the parking area. Township officials want to protect the property's "natural resource and watershed values, agricultural soils, view sheds and historic structures," which is stated in the conservation easement.
Tuesday, Webster Township Supervisor John Kingsley told the board that it's possible buses could be provided to alleviate the parking concerns or a private shuttle service might be provided by the community, but he emphasized those are only possibilities.
During a call for public comment, Dan Ezekiel, chairman of the Ann Arbor Greenbelt Advisory Commission, praised the board for its decision last week to deny the permit.
"We want to thank you and congratulate you for standing up for your conservation easement last week," said Ezekiel.
Ray Tell, a trustee on the Dexter Village Council, told the board, "I don't believe a once a year crossing or even parking on it is a big deal," referring to the easement. "I think it's worth reconsidering to allow them (the Dexter Area Historical Society) to pay off their debt."
Preparations are already under way for the event June 8-10, including booking re-enactors, reserving tents and chairs.
Lisa Carolin is a freelance reporter for AnnArbor.com. For more Dexter stories, visit our Dexter page. Contact the news desk at news@annarbor.com.