Posted on
Mon, Dec 20, 2010 : 6 a.m.
Webster Township preserves three more farms totaling 220 acres through dedicated millage
By Lisa Allmendinger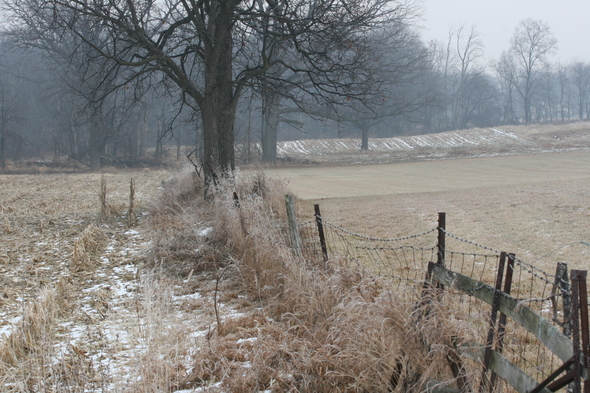 Lisa Allmendinger | AnnArbor.com
Editor's note: The year the Mast family purchased the property has been corrected.
Bob Mast's farm has been in his family for more than 100 years, and thanks to the Webster Township Farmland and Open Space Preservation Program, Mast can rest assured that it will never be developed.
"I preserved this in my grandfather's honor," said Mast, whose family purchased the property in 1904.
Mast's farm is one of three in Webster Township, totaling more than 220 acres, that were recently protected by the township's program.
All three properties are primarily agricultural but each has natural features as well, said Barry Lonik, the township's land preservation consultant.
In each case, the township purchased a conservation easement &to ensure that the land will not be developed and remains in private ownership, he said.
The Mast Farm, about 78 acres, is in at the southeast corner of Mast and Gregory roads, and has a small wetland on the east side. The property has ½-mile of frontage on Mast Road and a ¼ mile of frontage on Gregory Road.
Nearby is the 76-acre Sullivan Farm located on the west side of Mast Road, north of Gregory Road. This farm has both a small wetland and woodlot on the west side.
"These two properties are near each other and near the Nixon Farm," Lonik said. "I always take great pleasure in protecting property with the name of someone who has a road named after them because there is a long family history there."
In addition, the township partnered with the Ann Arbor Greenbelt Program to acquire the easement for the Ledwidge Farm on the northwest corner of Joy and Zeeb roads. This property has a small wetland near the road intersection and a woodlot on the north side and is about 65 acres. The Ledwidge Farm is adjacent to two other protected farms, and part of a protected block that covers more than 750 contiguous acres, he said.
All three projects received grants from the federal Farm and Ranchlands Protection Program, which provides financial assistance to municipal governments to protect prime agricultural soils, Lonik said.
"All three property owners donated at least 10 percent of the appraised value of development rights," he said.
Webster Township's land preservation program is funded by a dedicated .5 mil tax levy, which brings in about $200,000 a year. It was first approved by township voters in 2005 and renewed in 2009.
The township has received about $7 million in matching funds from other sources; a rate of $7 to $1, Lonik said.
"This represents the maturity of the Webster Township program," Lonik said and more projects are set to close in coming months.
With these projects, the township program has been involved in protecting more than 1,300 acres, Lonik said.
Lisa Allmendinger is a reporter for AnnArbor.com. She can be reached at lisaallmendinger@annarbor.com. For more Dexter area stories, visit our Dexter page.