Posted on
Tue, Jan 17, 2012 : 5:50 p.m.
Webster Township trustees skeptical of proposal to combine Dexter, Scio fire departments
By Lisa Allmendinger
It will take more information, and possibility a new name, to convince several Webster Township trustees that combining the Dexter Area Fire Department and Scio Township Fire Department benefits everyone involved.
Monday night, elected officials from Scio, Dexter and Webster townships, the Village of Dexter and about 30 firefighters and residents met at Webster Township Hall to discuss a draft agreement which, if approved, would combine the two fire departments.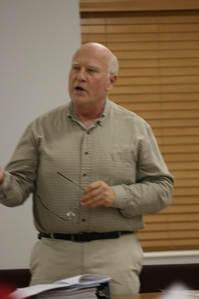 Lisa Allmendinger | AnnArbor.com
Webster Township Supervisor
John Kingsley
said a committee of elected officials from the four communities that began meeting 2.5 years ago to explore providing better fire and rescue services finds many positives in combining the departments.
"As we looked at it, we saw some shift in who pays what, who benefits and in my opinion, that's everyone, but others have a different opinion," he said.
Several of those who had a different opinion were Webster Township trustees, who questioned the benefits of a combined department for residents of the township.
Trustee Gary Koch questioned the costs for Webster Township, which are projected to be less with a combined department than they are paying currently the Dexter Area Fire Department.
"It's all about the money and the bigger you get, the more it costs us," he said, questioning the cost for things such as changing the name on 17 vehicles and on uniforms, as well as other items that haven't been included in the cost estimates.
He was told that a combined department would include improved fire services with decreased response time for areas such as Loch Alpine in Webster Township and better utilization of equipment.
"The only way this is better for us is with a new fire station, and that's not included in this," said Webster Trustee John Westman, who added that the township could add a fire station under its current agreement with the Dexter Area Fire Department. He said it doesn't need a combined department to improve service to its residents. "Decreased costs and response time; I don't see that these assumptions are correct," he said.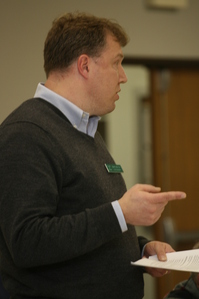 Lisa Allmendinger | AnnArbor.com
Dexter Township Supervisor
Pat Kelly
said the new substation that was added in Dexter Township last December has already improved services for township residents.
She said a combined department with more firefighters would add "another chess piece to move around the board. What Scio brings is another station, more guys that can be moved around."
For Scio Township residents, an upgrade to a 1A fire department would mean an iincreased level of service as a combined department will respond to all medical service calls. And Trustee Dick DeLong called the interlocal contract "well written. It's covers all the details and I'll vote for it."
Another sticking point for both Koch and Dexter Township Trustee Carl Lesser was the proposed name, Washtenaw Fire and Rescue. Both called it a "deal breaker." and said that "Dexter" should be included in the name of a proposed combined department.
"We are proposing a new beginning of sorts," said Dexter Village President Shawn Keough. "This group (Dexter and Scio fire departments) was together and then apart, and we feel that we're a better group together and a new name made sense for us all. We are proposing Washtenaw Fire and Rescue, at the moment."
He said the committee is open to other names, but Washtenaw Fire and Rescue would allow other departments to join in the future.
Another concern for several Webster board members was that the combined department would have a nine-member board that gives the largest entity, in this case, Scio Township, three seats on a new board, while the other municipalities will have two seats each. Currently, the Dexter Area Fired Department board has seven members, two each from the member communities and one at-large member.
One resident raised concerns about the committee proposing that a new fire board choose a "new chief" for the combined department. Currently, the Dexter Area Fire Authority and the Scio Fire Department each have a chief and committee members said that the term new chief didn't mean that it wouldn't necessarily be one of the current chiefs.
Lisa Allmendinger | AnnArbor.com
Each participating municipality must determine how to raise the funding for the department, and the fire board cannot impose a millage for the new combined department, according to the agreement.
The cost will be determined and weighted by population, which amounts to 30 percent of the formula, state equalized value, which also accounts for 30 percent of the total cost and a three-year average of fire runs in the municipality, which equals 40 percent of the each municipality's cost.
This differs from the formula used to determine what Webster, Dexter and Dexter townships currently pay DAFD, which allocates its costs for services based solely on the number of runs to each community in the prior year.
"I'm not sold on services being better. I think Scio benefits more. What's in this for Webster Township?" Koch said, adding, "Show me the benefits."
The estimated costs for a combined department are $2.2 million. The current cost each department pays what what each would pay under a combined department are shown below:
Scio Township: current cost, $956,250; new cost, $1,204,271
Dexter Village: current cost, $437,217; new cost, $270,423
Dexter Township: current cost, $364,595; new cost, $354,002
Webster Township: current cost, $450,556; new cost, $379,921
The committee also supports raising the minimum level of medical training to non-transporting basic EMTs, which is the level of training currently required by the DAFD.
Having more employees on duty will allow the department to be in compliance with the Occupational Safety & Health Administration's two-in, two-out rule with full-time staff. Two firefighters can enter a building that is on fire, while two firefighters remain outside to rescue them if that becomes necessary.
For medical calls, the new department would be able to take smaller apparatus rather than a fire truck, which will reduce wear and tear on larger fire vehicles. Currently, the larger apparatus is taken to a medical call in the event that there is a second call requiring a response.
Cost savings also can be achieved due to standardization of equipment and supplies and reduction in duplication of vehicles and equipment, committee members said. Plus, larger bids often result in lower unit prices. And, a larger service area also increases the department's competitive advantage when applying for grants.
The interlocal agreement includes provisions for transferring assets to the new combined department, such as personal property within the stations, trucks, tankers and engines. Current DAFD Board Chairman Jim Seta questioned the legality of the proposed agreement saying that DAFD would have to be dissolved before the assets could change hands, and suggested that another attorney review the draft agreement.
The Scio Township Fire Department has approximately $1,493,500 in assets, according to its actual cash value (ACV) as determined by Metropolitan Appraisal in September 2010.
DAFD currently has approximately $2,053,900 in assets as determined by Metropolitan Appraisal in May 2010.
It's expected that the committee will meet again and put together additional information for Webster Township.
Lisa Allmendinger is a regional reporter for AnnArbor.com. She can be reached at lisaallmendinger@annarbor.com. For more Dexter area stories, visit our Dexter page.