Posted on
Mon, Apr 18, 2011 : 5:24 p.m.
Dexter's Mill Creek Middle School designated a Michigan School to Watch
By Lisa Carolin
Dexter's Mill Creek Middle School has just received re-designation as a Michigan School to Watch, an honor it first won in 2007. That means Mill Creek has met criteria that include being academically excellent, being sensitive to the developmental challenges of early adolescence and being socially equitable for all students.
Principal Jami Bronson said the credit for the recognition should go to the staff and the community.
"First and foremost, we have a wonderful, hardworking, dedicated staff who truly understands middle school research and best practices for kids," Bronson said. "Mill Creek staff is always pushing the envelope and looking for ways to get better at servicing kids. We also have a very supportive community and parent network that helps us to continue to be progressive in our programming."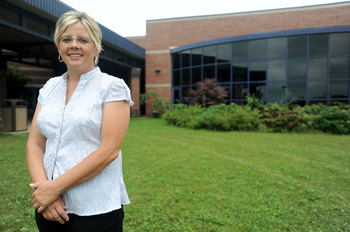 Angela Cesere | AnnArbor.com
Bronson also credits the value that students and parents put on education in the district and the support the school gets from the school board and central office.
Mill Creek teacher Mollie Kemp seconded that notion.
"Our administration encourages us to explore new ideas, strategies and technologies in an effort to reach all students," she said "We have an outstanding group of educators who share a common focus and consistently ask 'What is best for our students?' As a middle school, we offer many opportunities for students to connect, to feel valued, and to experience success."
But Mill Creek teacher Cheryl Darnton also said Bronson and her predecessor have had a lot to do with the school's success.
"The stage for Jami Bronson's excellence was set by Evelyn Shirk, our previous principal, who nurtured teachers by encouraging both autonomy and teaming, as Jami does," said Darnton. "Ev empowered teachers to take initiative, follow their passions and make their marks on the school ... . Jami Bronson, like Ev, is focused on what is best for kids."
The school, which includes seventh and eighth grades, is organized into small interdisciplinary teams of students and teachers, a structure the staff says promotes strong relationships that nurture students.
Mill Creek was also named a School to Watch in 2007, a designation that lasts for three years. Michigan Schools to Watch is a state-level partnership that recognizes high-performing middle-grades schools and provides guidance to teachers, administrators, parents and community members.
Lisa Carolin is a freelance reporter for AnnArbor.com. To reach the news desk, call 734-623-2530. For more Dexter stories, visit our Dexter page.