Posted on
Tue, Aug 23, 2011 : 1:57 p.m.
Earthquake in Virginia felt in Ann Arbor
By Jen Eyer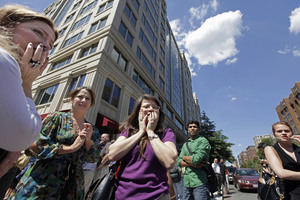 AP Photo | J. Scott Applewhite
Ground tremors felt here in Ann Arbor shortly before 2 p.m. were caused by a
5.8 magnitude earthquake centered in Virginia
, reports indicate.
Rob Van der Voo, a professor of geological sciences at the University of Michigan, said he and three colleagues felt prolonged shaking in the U-M Geological Sciences lab. He said he hadn't seen any details on the epicenter location, but a colleague in Washington D.C. had emailed him to let him know the city had felt the earthquake earlier.
Van der Voo said it was definitely possible to feel shaking here in Ann Arbor despite the epicenter taking place in Virginia. He said to feel shaking from an earthquake centered about 500 miles away isn't surprising.
However, Van der Voo said it was an unusual occurrence for Washington D.C. to experience an earthquake — historically, it's not a major area for earthquakes.
"This is a novelty," he said.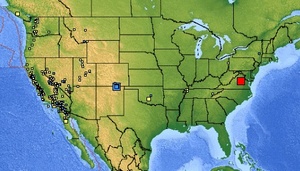 Image from USGS
Reports from the Associated Press stated the earthquake was felt as far north as Rhode Island and New York City.
The Washington Post spoke with Marcia McNutt, director of the U.S. Geological Survey, who said that the shaking could be a foreshock.
"What the concern is, of course, is that this is a foreshock," she said in the report. "If it's a foreshock, then the worst if yet to come."
Aswin Punathambekar, 33, an assistant professor of global and new media at the University of Michigan, said he was working on the fifth-floor of North Quad when felt the earthquake for several seconds. He was swaying a little bit in his chair, he said.
"The water was sloshing about in my water bottle," he said.
Kellie Carbone, who works for the University of Michigan Health Service on Fletcher Street, said some of her co-workers thought the shaking they felt might be from a large truck blowing by, but having lived in California for 16 years, she knew different.
"I could feel the surface of the desk rolling underneath my hands," she said. "It was going on for about 40 seconds." She felt a similar rolling motion in the floor under her chair.
The quake was the talk of the office this afternoon, she said. "I think everyone's pretty excited," she said. "Some people who didn't feel it have been feeling pretty left out."
While living in California, she felt quakes between magnitude 6 and 7, which knocked pictures off the wall and in one case cracked the foundation of her house. Compared to that this one was pretty boring, she said.
Eileen Chaivre and Lisa Glenn, who work in the public services area on the sixth floor of Ann Arbor's city hall, said they felt the quake this afternoon.
"It was more like a swaying," Chaivre said. "It felt like forever, but it was only like 10 or 12 seconds. Then it started again."
Several readers on AnnArbor.com's Facebook page also reported feeling the tremors.
Catherine Lomax Martin said she was in the U-M Medical School when she felt the earthquake.
"My desk was shaking at the Medical School in Ann Arbor," Martin said.
Peter Ilyich Smith reported some shaking objects on U-M's Central Campus.
"Chairs moving and window blinds shaking in a Central Campus building," he said.
Kyle Feldscher, Lee Higgins and Cindy Heflin contributed to this report.
This story was changed to reflect the USGS's revision from a 5.9 magnitude to 5.8.
Jen Eyer is the director of audience engagement for AnnArbor.com. Reach her at jeneyer@annarbor.com.