Posted on
Wed, Aug 31, 2011 : 5:40 p.m.
Dillon Pearce pleads guilty to violating his probation in duckling deaths
By Kyle Feldscher
Dillon Pearce pleaded guilty Wednesday to violating the terms of his probation after missing two classes and a required drug screening .
Pearce pleaded guilty in July to intentionally running over and killing four ducklings and using marijuana in an Ann Arbor McDonald's parking lot and was sentenced to serve 10 days in jail and one year of probation.
He was arrested last week on a bench warrant for missing a drug screening on Aug. 10, just 1 week after he was sentenced.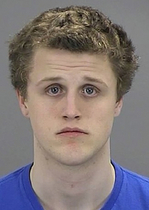 Pearce pleaded guilty to the charge of missing that drug screening, in addition to a charge of missing "Thinking Matters" classes on Aug. 11 and Aug. 16.
Pearce's lawyer, David Nacht, said his client did not dispute the charges and took responsibility.
"It's the gist of it that we're not going to contest and my client will be held responsible," Nacht told Washtenaw County Trial Court Judge Archie Brown.
Pearce will be sentenced at 1:30 p.m. Sept. 7. For violating his probation, Pearce faces the maximum penalty for killing and torturing an animal, which is 4 years in prison.
While in court Wednesday, Nacht told Brown that Pearce has been drug tested six times since he was sentenced and has tested negative every time. Brown said that would be something taken into account during the sentencing hearing.
Pearce appeared in court clad in a green Washtenaw County Jail uniform. He has been held in custody since he was arrested on the bench warrant last week.
Pearce pleaded guilty to running over four ducklings and using marijuana on April 25 at the McDonald's restaurant at 2625 Plymouth Road. The manager at the store told police she saw Pearce pull out of the adjacent parking lot where he and his friends were eating their food and turn back into the McDonald's parking lot.
According to the police report, Pearce then ran over four ducklings while the other men in the Hummer laughed.
The birds were found dead at an entrance to the property and Pearce was arrested at a nearby gas station, where police found a small medicine bottle containing marijuana.
Kyle Feldscher covers cops and courts for AnnArbor.com. He can be reached at kylefeldscher@annarbor.com or you can follow him on Twitter.