Posted on
Wed, Sep 7, 2011 : 5:20 p.m.
Dillon Pearce to serve 30 days in jail, do community service with Humane Society
By Kyle Feldscher
Ann Arbor teen Dillon Pearce will serve 30 days in jail and perform 500 hours of community service for violating his probation for running over and killing 4 ducklings.
Washtenaw County Trial Court Judge Archie Brown sentenced Pearce Wednesday to the jail time, with no credit for time served for the 14 days he has been held in jail since being arraigned on the probation violation. Pearce will serve a minimum of 2 days of jail per week, in addition to completing at least 100 hours of community service per month with the Humane Society. He was also sentenced to 2 years of probation.
Pearce pleaded guilty last week to violating the terms of his probation by missing 2 required classes, as well as a drug screening on Aug. 10. He has said he missed the drug screening because he was attending a funeral in Saginaw.
Pearce was placed on probation after pleading guilty to running over and killing 4 ducklings and using marijuana in an Ann Arbor McDonald's parking lot in April. He was originally sentenced to serve 10 days in jail and 1 year of probation.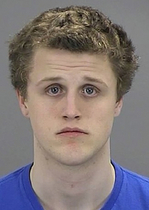 Pearce will also be required to pay more than $1,800 in costs and fees, must participate in a mental health treatment program and was referred to a substance abuse treatment program.
"I take responsibility for what I did," Pearce said to Brown before being sentenced. "I want to give back to the community and show the community that I can be a good person."
Pearce was also sentenced on Wednesday to 14 days in jail for a second count of using marijuana, but he was given credit for time served. He will serve no additional time on that charge.
Washtenaw County Assistant Prosecutor Dianna Collins had asked Brown to sentence Pearce to 6 months in jail and to suspend his ability to leave Michigan. Pearce had previously asked the court to allow him to leave the country in order to pursue a professional hockey career.
Collins said Pearce showed a disregard for the law and the court when he missed a drug screening on Aug. 10, which was just 1 week after he was sentenced. Pearce also missed 2 "Thinking Matters" classes on Aug. 11 and Aug. 16.
"He's not taking this seriously or he is not willing to follow … orders," she said.
Pearce's attorney David Nacht disagreed with Collins, calling Pearce "immature" but saying that Pearce does have a respect for the law.
Nacht said that Pearce recognized the killing of the 4 ducklings was disturbing to the community and that he himself was disturbed by the incident. He said Pearce has tested negative for drugs during every screening that he has shown up for since his sentencing, including a screening during the week that he attended the funeral in Saginaw instead of complying with the drug test.
Nacht said that Pearce made a judgment call when deciding to attend the funeral of a former hockey teammate's sister in Saginaw instead of going to take the drug screening. It was not the act of someone with blatant disregard for the law, Nacht said.
"He has not been so extreme and so full of callous disregard to suggest that he is the type of person who shows contempt for the law," Nacht said.
Nacht declined further comment after the hearing was complete. Pearce's parents also declined comment.
Kyle Feldscher covers cops and courts for AnnArbor.com. He can be reached at kylefeldscher@annarbor.com or you can follow him on Twitter.