Posted on
Thu, Nov 22, 2012 : 5:58 a.m.
Lots of diners leave traditional turkey dinner preparation to restaurants
By Janet Miller
The Norman Rockwell image of Thanksgiving is changing. While turkeys will still be roasted in most home kitchens around Ann Arbor, a growing number of families are forgoing the baking and basting to dine out.
More than half a dozen area restaurants will be open for Thanksgiving, most of them serving turkey and trimmings. At least for some restaurants, the day has become second only to Mother's Day in terms of traffic.
Daniel Brenner I AnnArbor.com
Mike Kabat
, owner of
Haab's Restaurant
in downtown Ypsilanti, hasn't had a Thanksgiving off in 41 years. When he worked at the now defunct Ann Arbor Town Club, a Thanksgiving meal was served. Since he bought Haab's a few years later, he has worked the holiday, continuing a tradition Haab's began 78 years ago.
He's seen the number of Thanksgiving Day diners grow over the decades as the younger generation creates new traditions.
"Young people aren't familiar with cooking major meals," he said, "and grandmothers and mothers and aunts have retired from doing it. It's become the responsibility of restaurants to provide that."
It's become the second busiest day of the year for Haab's, Kabat said, trailing only Mother's Day. He expects to cook between 28 and 30 large birds, with 80 percent of diners ordering turkey. The restaurant's regular menu is also available.
Haab's attracts a broad array of diners on Thanksgiving, from couples who don't want to prepare a turkey for two, to a family of 30 that made a reservation this year. While reservations aren't required, they are encouraged, Kabat said, and fill faster than even Mother's Day. Before Halloween, Haab's had more than 100 reservations for Thanksgiving dinner. A week before the holiday, the number of reservations reached 400, with the only openings early and late in the day.
All Haab's employees are on deck for Thanksgiving, Kabat said. "No one gets the day off and many work double shifts."
Kabat isn't sure the more glitzy restaurants would fare as well on Turkey Day. "We are a traditional restaurant. It's like walking into mom's dining room. I'm not sure how a chrome and glass place would do," he said.
Since it opened 16 years ago, Holidays Restaurant on West Stadium Boulevard has been open every Thanksgiving (and Christmas and New Year), attracting solo diners, travelers and customers who find themselves in town because of the hospitals or universities.
But there are also large family groups, said owner Rob TerBush. "When you dine out on Thanksgiving, no one argues over who makes what, who washes the dishes or where Uncle Bob should park the car."
Thanksgiving has become a busy day for Holidays, he said, with crowds steadily growing every year. The day is about evenly divided among single diners, couples and groups, TerBush said.
Holidays will add extra staff for the day, including servers and cooks, and will offer a turkey buffet along with a limited menu. While it's usually a busy day, Christmas is even more hopping. "It's the busiest day of the year," TerBush said.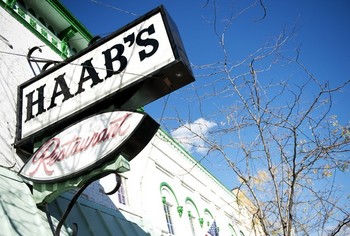 Not every restaurant that's open on Thursday features turkey.
Raja Rani
stays with its Indian menu, said
Jay Singh
, a manager. Their Thanksgiving Day customers aren't looking for tradition, he said. While the restaurant's Thanksgiving Day crowd includes many American students who didn't travel home, there are also international staff and students who don't celebrate the holiday, Singh said.
Some years are busier than others on Thanksgiving, he said, and the staff is given the option to work. If no one wanted to work on Thanksgiving, Raja Rani would close for the day, Singh said. But tips run 50 percent higher than on other days, he said. "It's worth their time."
While a handful of restaurants will be up to their gills in giblets and gravy, most eateries close for the day. All five Main Street Ventures restaurants in Ann Arbor, including Gratzi and Carson Bistro, are shuttered for Thanksgiving, said Kevin Gudejko, director of operations.
But it's not because there isn't money to be made, he said. "It's not because of revenue. Our restaurants would do very well on the holidays." The restaurants field a significant number of calls in the weeks before Thanksgiving to see if they will be open, he said.
Rather, it's company policy to allow time for family, Gudejko said. "It wouldn't fit with what we try to do and how we treat our people. We have never been open for Thanksgiving, other than one of our restaurants in Toledo, where we serve 1,500 meals to (residents) of homeless shelters."