Posted on
Mon, Oct 15, 2012 : 6:32 p.m.
Dingell, Levin and local legislators discuss funding priority for early childhood education
By Danielle Arndt
"Is this early childhood's year?"
That was the question two U.S. congressmen and a panel of local legislators discussed Monday morning at a Legislative Breakfast hosted by the Washtenaw Success by 6 Great Start Collaborative.
Success by 6, an advocacy agency that focuses on improving the quality of education for young people in Washtenaw County, hosted Monday's event and invited the "major players," U.S. Rep. John Dingell, D-Dearborn; his wife and children's activist Debbie Dingell; and U.S. Sen. Carl Levin, D-Detroit, to the table to talk about the opportunities and possibilities for increasing funding for prenatal to kindergarten programs.
State Sen. Rebekah Warren, D-Ann Arbor, and Reps. Rick Olson, R-York Township; Mark Ouimet, R-Scio Township; and David Rutledge, D-Superior Township; also weighed in on the topic in front of a room of more than 100 attendees.
Danielle Arndt | AnnArbor.com
Success by 6 Director
Margy Long
said the purpose of the event was to inform and energize people about early childhood education and the possibilities that exist for funding in Lansing.
Many believe 2013 could be the year that early childhood education takes a front seat in policy and funding decisions.
State Sen. Roger Kahn, R-Saginaw Township, has proposed $140 million be added to the School Aid Fund in 2013 for early childhood programs. The Obama administration also has proposed an early childhood budget increase.
Dingell and Levin both stressed why it needs to. Dingell said beyond the humanitarian aspects, people need to recognize the economic impacts.
According to a study conducted by the Ypsilanti-based HighScope Educational Research Foundation, there is a return on investment of more than $17 for every $1 spent on early childhood care and education programs. The study says this is primarily because of the large continuing effect on the reduction of male crime.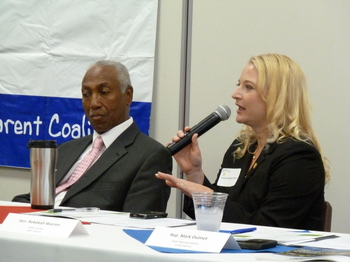 Danielle Arndt | AnnArbor.com
But lawmakers need to hear the "echo chamber," Warren said.
She said early childhood education would be the top priority if educators, health professionals, law enforcement, the philanthropic community, nonprofits and government agencies were to all ban together.
"If we could see that level of energy and collaboration at the state capital … because it's like every other budget. The money is there. It's just about how do we prioritize," she said, adding often "the last voice in someone's ear before they push the button is what gets heard."
Making sure communities outside of Ann Arbor and Washtenaw County value early childhood education just as much and are advocating just as loud also is important, Warren said.
Both Warren and Ouimet suggested one way to fund early childhood education is to decrease funding to the corrections department. Warren said one outcome of a robust prenatal to post-secondary education system is fewer teens and young adults entering the legal system.
John Bebow of the Center for Michigan, who also was at the event, said about 30,000 4 year olds who are eligible for free preschool cannot attend because of inadequate state funding or logistical hurdles, such as the inconsistent coordination of services.
Scott Menzel, superintendent of the Washtenaw Intermediate School District, said on the eastern side of Washtenaw County, school leaders are working on a unique model for prenatal through post-secondary education if a consolidation proposal for merging the Ypsilanti and Willow Run school districts is passed by voters on Nov. 6.
Danielle Arndt covers K-12 education for AnnArbor.com. Follow her on Twitter @DanielleArndt or email her at daniellearndt@annarbor.com.