Posted on
Mon, Jun 11, 2012 : 12:38 p.m.
Dingell recruiting Ann Arbor area residents to participate in federal deficit-reduction exercise
By Ryan J. Stanton
Think you've got what it takes to reduce the federal deficit in a meaningful way? U.S. Rep. John Dingell wants to hear from you tonight.
Ann Arbor area residents will have an opportunity to put the federal budget on a more responsible and sustainable path in an interactive deficit-reduction exercise taking place from 6-8 p.m. at Washtenaw Community College, 4800 E. Huron River Drive.
The program will feature Dingell, D-Dearborn, and Sara Imhof, Midwest regional director for the nonpartisan Concord Coalition, which developed the deficit-reduction exercise.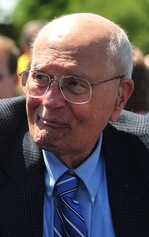 Participants will assume the roles of members of Congress who have been appointed to a special committee to recommend a package of policies to reduce projected deficits over the next decade and put America on a sound fiscal foundation.
The exercise involves difficult decisions and compromises on domestic and defense spending, as well as possible changes in entitlement programs and tax policies.
"We must confront our budget and deficit and I want input from my constituents to find responsible and effective ways to reduce our spending," Dingell said in a statement. "We need to balance investments that will help our economy recover, while also committing to decreasing the federal deficit."
By considering issues such as federal spending priorities, tax policy and entitlement reforms, participants will gain first-hand experience addressing the difficult issues facing policymakers like Dingell and his congressional colleagues, Imhof said.
The program is free and open to the public. Seating is limited and reservations are requested.
To RSVP, email Greg Sunstrum of Dingell's staff at greg.sunstrum@mail.house.gov or call Dingell's Dearborn Office at 313-278-2936.
Callers should provide their full names and email addresses.
The Concord Coalition is a grassroots organization dedicated to fiscal responsibility. Former U.S. Sens. Warren Rudman (R-NH) and Sam Nunn (D-GA) serve as its co-chairs.
Dingell is defending his seat this year against Democratic challenger Daniel Marcin, who is pursuing a doctorate in economics at the University of Michigan.
In his most recent campaign newsletter, Marcin highlighted a new report that revealed only 69,000 new jobs were added in U.S. in the month of May as unemployment rose.
"Economists are screaming for more action on jobs, but it hasn't even been a week yet and we don't hear politicians talking about it anymore," he said.
"Republicans are calling for more harmful belt-tightening. Unfortunately, the Democrats are rolling over and saying, 'You're probably right.' "
Ryan J. Stanton covers government and politics for AnnArbor.com. Reach him at ryanstanton@annarbor.com or 734-623-2529. You also can follow him on Twitter or subscribe to AnnArbor.com's email newsletters.