Posted on
Thu, Sep 8, 2011 : 9:44 p.m.
Dingell says he's ready to fight for President Obama's $447 billion jobs plan; Walberg less thrilled
By Ryan J. Stanton
Following tonight's speech by Barack Obama, U.S. Rep. John Dingell, D-Dearborn, said he's hopeful Congress will join him in supporting the president's $447 billion jobs plan.
"It was a vigorous speech. It sets out a program that the people have been waiting for and very much want and I intend to support the president very much," said Dingell, speaking with AnnArbor.com via phone from Washington, D.C.
"What he's including in there is, first of all, paid for, and it is full of things that have been supported by people on both sides of the aisle," Dingell said of the plan, which includes a mix of tax cuts and spending intended to spur hiring and consumer spending.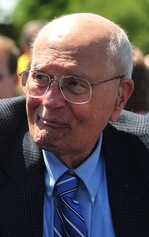 The plan would provide tax breaks for companies that hire new workers, including a $4,000 tax credit for hiring anyone who has spent more than six months looking for a job. Obama said it would put thousands of people to work in every state, including teachers, police officers, firefighters and construction workers.
Meanwhile, it would cut payroll taxes in half for every working American and every small business, while extending unemployment benefits.
"Pass this jobs bill, and the typical working family will get a $1,500 tax cut next year," Obama told a joint session of Congress. "Fifteen hundred dollars that would have been taken out of your paycheck will go right into your pocket."
U.S. Rep. Tim Walberg, R-Tipton, said in a statement tonight he hoped the president was finally ready to join him in encouraging private-sector job creation.
"Unfortunately, during most of the president's speech, all I heard was more of the same old song and dance: more spending, more regulation, more government-centered stimulus and more of the same failed policies," he said.
"House Republicans have passed several significant proposals to encourage job creation like repealing the health care law and removing regulatory barriers to domestic energy production," he added. "Yet those efforts have been blocked by the president and the Democratically-controlled Senate."
Dingell praised the fact that Obama's plan includes spending $100 billion on constructing roads, bridges, schools and other infrastructure.
"We've got bridges that are screaming for repair and rebuilding," he said. "I've got schools in the district where the roofs leak, that are older than the grandparents of the kids who are attending the schools, and are sadly in need of repair."
Infrastructure projects are proven economic generators, Dingell said. For every $1 spent on infrastructure, $1.44 is returned to our economy, he said.
U.S. Sen. Debbie Stabenow, D-Mich., issued a statement saying she hopes Obama's speech focuses Congress' attention back where it should be: on creating jobs.
"The president offered his ideas, now members of Congress need to offer theirs, and then it's time to come together and get something done," she said. "I'm going to keep urging Congress to pass measures particularly important to Michigan's economy, like growing jobs in advanced batteries, agriculture and small businesses."
U.S. Sen. Carl Levin, D-Mich., issued a statement calling Obama's speech a rousing, patriotic call to bipartisan action.
"The elements of this program have had bipartisan support in the past and would not add to the budget deficit," he said. "There is overwhelming agreement among economists that the Recovery Act we passed in 2009 helped to prevent a second Great Depression; now we must act to avoid slipping back into recession."
Michigan Gov. Rick Snyder noted in a statement that Obama is calling for many changes at the federal level that have already been made here in Michigan.
"The president proposed cutting payroll taxes for small businesses in half to encourage job growth," he said. "In Michigan, we already ended the double tax on small businesses. The president proposed ending loopholes for corporations. In Michigan, we already did that by switching to a flat 6 percent corporate income tax that is simple, fair and efficient."
Added Snyder: "These are changes that will help create an environment where jobs can grow, and they should be considered by Congress."
Snyder also took note of Obama's emphasis on infrastructure projects. He said Michigan has a "huge opportunity" to build the New International Trade Crossing — a privately funded project that Snyder believes is vital to Michigan's economic future.
"Canada is Michigan's No. 1 customer and we need to expand our ability to export Michigan-made products to the world," Snyder said. "Building the NITC will not cost Michigan taxpayers, and it means Michigan will receive approximately $2.2 billion from the federal government to use for other road projects throughout the state."
With the national unemployment rate stuck at 9.1 percent and Michigan's rate at 10.9 percent, Dingell said leaders in Washington need to stop playing political games and get to work on turning around the economy and creating jobs.
But will Congress get behind the president?
"He got some applause out of the Republicans for some of the things he said and, frankly, we'll see," Dingell said. "We've got 14 months before the next election, we've got three months before the end of this session, and we've got to produce a huge amount of work if we're going to carry out our responsibilities to the people."
Ryan J. Stanton covers government and politics for AnnArbor.com. Reach him at ryanstanton@annarbor.com or 734-623-2529. You also can follow him on Twitter or subscribe to AnnArbor.com's e-mail newsletters.