Posted on
Mon, Dec 21, 2009 : 2:39 p.m.
'Disconnect' between hospital marketing and actual outcomes, U-M professor says
By Tina Reed
Although the Food and Drug Administration closely monitors health claims made in advertisements, by, for instance, pharmaceutical companies, ad claims made by non-profit hospitals don't have the same regulations.

In a recent New York Times article, University of Michigan professor of surgery John Birkmeyer said anecdotal claims made by non-profit hospital marketers aren't always representative of what's happening on the ground within the hospitals.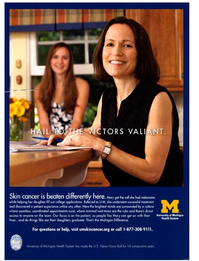 Click here to look at one of the University of Michigan's advertisements referenced in the New York Times this week.
"There seems to be a disconnect between the business end of the cancer treatment industrial complex and the physicians on the front lines treating patients," said Birkmeyer, who is also a cancer outcomes researcher at the U-M Health System.
One of the biggest issues called into account in the article is the use of anecdotes of patients who have had positive, but not necessarily typical results. Advertising claims about certain technology used in one hospital being superior to technology being used in other hospitals is often unsupported, experts in the piece said.
One example of this was a print ad which advertised a $50 million center for proton beam therapy at Massachusetts General Hospital Cancer Center in Boston as being a technology that's more successful in treating certain cancers.
This claim was unsupported, Birkmeyer said.
"The ad might be accurate that they are the only hospital in the Northeast with this particular widget," he said. "But it could be misleading that the availability of this particular widget gave this patient better odds of survival."
Tina Reed covers health and the environment for AnnArbor.com. You can reach her at tinareed@annarbor.com, call her at 734-623-2535 or find her on Twitter @TreedinAA.