Posted on
Wed, Nov 18, 2009 : 6:24 p.m.
Dominic Oyerinde found competent to stand trial in ex-girlfriend's death
By Tom Perkins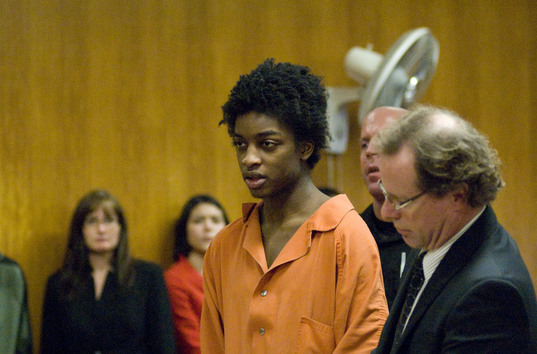 Tom Perkins | For AnnArbor.com
A judge found a 20-year-old Ann Arbor man competent to stand trial today on open murder and carjacking charges in the death of his ex-girlfriend, 17-year-old Anna List.
Washtenaw County Circuit Court Judge Archie Brown agreed with a report from a forensic psychiatrist that deemed Dominic Oyerinde mentally fit for trial. He is accused in the Jan. 13 bludgeoning death of List.
As Oyerinde's public defender, Tim Niemann, and Assistant Prosecutor Eric Gutenburg approached the bench to set further trial dates with Brown, Oyerinde quietly demanded that he defend himself.
Once dates of Feb. 10 and March 8 were set for the final pretrial and trial, respectively, Niemann addressed his client's "outburst."
Niemann told the court what Oyerinde said, and Brown asked Oyerinde whether he wanted to defend himself, to which he replied "yes."
"I need to know more about this case," Oyerinde said in a quiet voice when asked for his reasoning. "I want to make a difference."
Brown rejected the request, calling it "not appropriate" at this time.
Niemann said after the hearing the request was "out of left field."
Oyerinde is accused of hitting List, a Ann Arbor Huron High School student, in the head with a hammer outside Ypsilanti's Recreation Park following an argument early on the morning of Jan. 13.
A passerby found List unconscious in the snow and called for help, but she died from two blows to the head after remaining in a coma for a week.
Witnesses at the preliminary hearing who were friends with the couple said they heard loud arguing in List's van parked outside their house just before the attack.
One witness said he then heard two van doors slam, the pair walking down the street together and a glass bottle break.
Soon after, Oyerinde returned to the van without List and drove off.
Oyerinde's shoes were found near List's body, and a hammer detectives say was used to kill List was found sticking out of the snow near the Congress Street crime scene two weeks later.
Oyerinde hid for several days at a relative's house in Detroit before police arrested him.
If convicted, he faces up to life in prison.
Tom Perkins is a freelance writer for AnnArbor.com. Reach the news desk at news@annarbor.com or 734-623-2530.