Posted on
Tue, Jul 23, 2013 : 12:33 p.m.
Domino's Pizza Inc. reports second-quarter profit increase of 19 percent
By Chelsea Hoedl
Domino's Pizza Inc. reported its second-quarter profit rose 19 percent with the growth of sales in existing stores and the opening of 101 new locations outside of the U.S., according to Bloomberg Businessweek.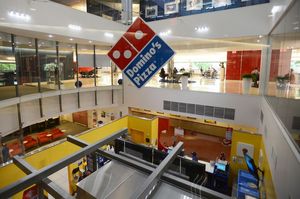 Melanie Maxwell | AnnArbor.com
In the period, which ended June 16, the Ann Arbor Township-based company earned $33.3 million — or 57 cents per share — which is up from last year.
According to a previous AnnArbor.com report, Domino's had a net income of $28.1 million in the second quarter of 2012.
Bloomberg Businessweek reported revenue had climbed just more than 10 percent to $414 million from $376.1 million last year. Revenue from U.S. locations in operation for at least a year rose 6.7 percent, and overseas, locations open for at least a year grew 5.8 percent.
Stock for the company, which had a total of 10,440 locations at the quarter's end, is up 46 percent this year, Bloombergreported.
Chelsea Hoedl is an intern reporter for AnnArbor.com. She can be reached at choedl@mlive.com.