Posted on
Mon, Nov 23, 2009 : 6 a.m.
Well-played: The story of University of Michigan three-sport legend Don Lund
By James Dickson
Ask University of Michigan baseball legend Don Lund the proudest accomplishment of his 50-year career in athletics, and he'll tell you about the men he had the pleasure of playing with and coaching.
"Don is very humble. It's hard to get him to say too much about himself and what he's done," said James Irwin, author of "Playing ball with legends: The story and stories of Don Lund."

"But you get him talking about other people and he'll go on for hours."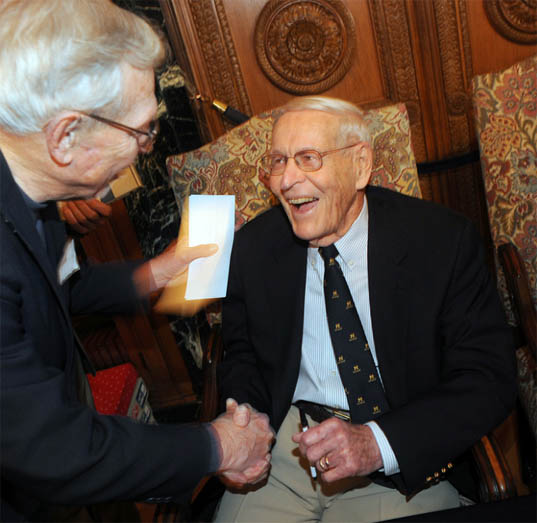 Lon Horwedel | AnnArbor.com
Lund is a former nine-time varsity letterman at the University of Michigan, three each in baseball, basketball and football. He could have earned 12 varsity letters if not for a rule at the time disallowing freshmen from lettering in sports.
After graduating from Michigan in 1945, Lund was faced with a choice: play football for the Chicago Bears, which drafted him in the first round, or take his chances with the Brooklyn Dodgers. Basketball, Lund's first sport, wasn't really professionalized at that point, he explained.
Don Lund chose baseball and never looked back. In 1947, when the Dodgers called Lund up from the farm system to the big time, they also signed a young man by the name of Jackie Robinson and shattered baseball's color barrier.
"Jackie had a rough go of it at first," Lund said, between harassment from fans who wanted baseball to remain 'separate but equal' and a hitting slump that only made the harassment worse. "But he was a great player and a class act, all the way."
Lund went on to play for the St. Louis Browns and the Detroit Tigers before taking the helm of the U-M baseball program after legendary coach Ray Fisher retired. Lund's tenure at Michigan lasted from 1959 to 1962, culminating in an NCAA Championship for the "comeback kids" of the 1962 team.
Then the Detroit Tigers came calling, asking Lund to head up their minor league farm program. The 1968 World Series-winning Tigers, except for Norm Cash, were comprised entirely of men who'd come through Lund's system.
Tall tales
When Irwin first broached the topic of writing a book on Lund, Lund asked why anyone should put forth such effort.
"We've been wanting to strap a tape recorder on dad for years," joked Sue Lund, Don's daughter. "Now we don't have to - these stories are a part of history now."
"Playing Ball with Legends" is a must-read for diehard Michigan fans, particularly those interested in history. Tales and insights that would've otherwise been lost to history will now be available to generations of Michigan faithful.
One of Lund's few missteps came when he was an associate athletic director at U-M. Heading up the effort to create the Michigan Hall of Honor in 1978, Lund polled Michigan coaches to see who merited inclusion - obvious choices like President Gerald Ford, Tom Harmon, and Bennie Oosterban.
One man Lund's polling neglected to mention was Fielding H. Yost, whose 40-year tenure as head football coach and athletic director put Michigan on the map and changed the face of college athletics. To this day, Lund can't explain exactly why a member of the College Football Hall of Fame's inaugural class didn't make the cut for the U-M Hall of Honor until the second class. Lund retired in 1992.
The Yost incident was a rare misstep in Lund's career, and one of the more entertaining stories he has to tell.
The bond between champions
Lund's players remember him as more than a coach. He was a father figure who pushed them toward excellence on the baseball diamond and beyond. About 45 of those players came to town for the old coach's book talk last week at the University of Michigan's William L. Clements Library.
Ed Hood, captain of the 1962 championship team, said Lund's coaching gave the team the winning edge that year.
"A lot of people had written us off because we lost two All-Americans the previous year," Hood said. "We won a lot of games by one run that year - coaching makes the biggest difference in close games.
"I remember feeling sorry for the guys on the other team before games," Hood said. "You just felt that having Don on our side gave us an edge."
Of the four Michigan baseball teams Lund coached and Hood played on, both men agreed the bond between the 1962 "comeback kids" remains the strongest.
"We try to get together every year," Hood said, "mostly because people like seeing Don. We have guys in Florida, guys in California, guys all over this country, but we make a point to see each other. That's what happens when you win championships."
Dave Brown, who played both for Lund and his predecessor, Ray Fisher, missed the championship run by two years. Brown remembers Lund as a taskmaster who challenged his teams to be great.
"The stuff you see nowadays, with guys missing the cut-off man, throwing to the wrong base in the World Series, Don wouldn't have stood for any of that," Brown said. "You play the way you practice. Don never let us get too loose."
Fritz Fisher, who played on the '62 team, said Lund's leadership and priorities are a big reason every member of that team graduated, and why so many have gone on to have successful careers outside baseball. Fisher made a career in banking in Toledo after leaving Ann Arbor.
"With Don, the priorities were academics, then baseball, with our social lives coming a distant third," Fisher said. "So few people actually make it in professional sports. Don gave us the balance we needed to have success in the real world, too."
James David Dickson reports on human interest stories for AnnArbor.com. He can be reached at JamesDickson@AnnArbor.com, or Twitter.com/JamesDDickson.