Posted on
Fri, Dec 2, 2011 : 9 a.m.
With donations down 10%, Salvation Army asks donors to pitch in for Red Kettle campaign
By Julie Baker
Giving to The Salvation Army of Washtenaw County's Red Kettle campaign is down 10 percent from this time last year, and Maj. John Williams says he's hoping donors will be extra generous in the coming weeks.
The organization's mail appeal program and kettle donations are both down, Williams said.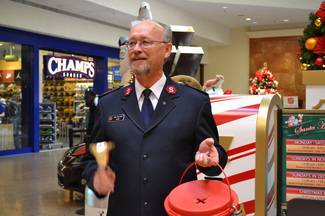 Courtesy photo
Williams said he's not entirely sure why giving is down this year, but the economy and recent rainy days aren't helping.
"Maybe when people are out shopping and spending they're forgetting about giving," he said. "We kind of felt like Washtenaw County was doing better. We're getting a lot of $1 donations, instead of $5, $10, $20."
The Salvation Army's $300,000 Red Kettle Campaign kicked off in Washtenaw County Nov. 11 and is scheduled to run through Dec. 24, although Williams said that could extend a few days if donations are still down.
The campaign typically sees a few high points — the days following Thanksgiving and those leading up to Christmas are good for donations, as are particularly snowy ones.
More than 50 bellringers are stationed at locations throughout the county, and prospective volunteers can even sign up to ring online. Williams said that some of the smaller areas typically draw in big donations — Manchester, Milan and Chelsea all do really well. Briarwood Mall, an area of focus for the campaign, also does well.
The donations are down at a time when the local organization is seeing increased demand for services because of recent welfare cuts and reductions to utility assistance, Williams said. Food pantry demand is up about 80 percent this year, with other services up 50 percent.
The Salvation of Washtenaw County uses an average of $.82 of every dollar donated to provide a food pantry, soup kitchen, clothing, a family shelter, transitional housing and counseling for veterans, character building for youth, camp programs, emergency and disaster relief, utility assistance and eviction prevention.