Donations get Ann Arbor firefighter back on the ice and help family of woman killed in car crash
Posted on Mon, Nov 22, 2010 : 6:01 a.m.
Ann Arbor firefighter John Maguire was simply hoping someone would find his stolen hockey equipment so he could get back on the ice. He never imagined the community response to his story.
Maguire is back playing hockey now, thanks to donated new equipment. And the generosity was so great that he gave nearly $1,000 to the family of a woman killed in a car crash in late September.
Maguire was off duty and was driving home in rural western Washtenaw County when he saw a car on its side burning near the intersection of Dancer and Jackson roads in Lima Township late on the evening of Sept. 25.
The car had sped off an I-94 bridge overhead, landed in the street and burst into flames. Maguire kicked out the back window, and, together with others who had stopped, pulled the woman from the car and to the side of the road.
Despite their attempts to stabilize and save her, 57-year-old Michelle Adriann Stoj of Willis was pronounced dead at the scene at 9:30 p.m.
While Maguire had worked to save Stoj's life, someone made off with his hockey gear. The bag full of roughly $500 worth of hockey equipment fell out the back of the truck and was taken from the scene.
Maguire, who has played on a recreational hockey league with other firefighters, was forced to drop out after his equipment went missing.
Donations started pouring in after AnnArbor.com published a story about the rescue attempt and the theft. Other local media outlets also picked up on the story.
The Ann Arbor firefighters union said donations large and small came in.
D & D Bicycles and Hockey in Waterford and Play It Again Sports in Ann Arbor gave brand-new gear. Royal-West Roofing and Sheet Metal in Whitmore Lake donated a significant check.
The owners of the UPS Store on South Main Street in Ann Arbor donated $35. A citizen in southeast Ann Arbor added $50. The University of Michigan Survival Flight donated a couple shirts to replace the clothing ruined while Maguire was at the accident. Boy Scout Troop 312 in Pinckney donated a new fire extinguisher for Maguire to carry in his truck.
And the Wayne County Community College Fire Training Academy held a potluck dinner and collected $45. That came with a note from the firefighters-in-training that said, "To John Maguire, the kind of fire fighter we all aspire to be."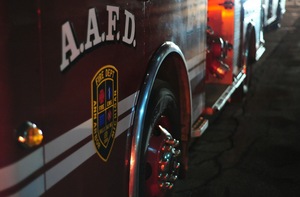 Maguire said he was overwhelmed.
"I was just hoping somebody found my stuff, and the incredible generosity of people was very surprising," Maguire said.
He was back on the ice within two weeks, using the new equipment and a replacement jersey he bought with donated money.
But he had nearly $1,000 in donations left over.
"I didn't feel right keeping any of that, so I wanted the family to have it to use for funeral expenses or donate to a charity in her name," Maguire said.
Maguire stressed that the family's loss was the most important aspect of the story. Stoj's family members could not be reached for comment.
"My first thoughts are for Ms. Stoj's family," he said. "They lost a family member that night, and she can never be replaced. I wished I could have done more for her. That's the real tragedy. But I'm very grateful for all the wonderful people and businesses in our community."
And Maguire's original hope that someone would find his missing equipment also didn't go unanswered. A couple weeks ago, Michigan State Police troopers contacted him after finding the discarded bag of gear near Chelsea.
It had been there for some time — a nest was inside, and Maguire found chewed nuts and other evidence that an animal may have been living in there, he said.
Most of the gear was ruined, but a couple of items were salvageable, he said.
Maguire said he was glad to get to know Stoj's family and experience the generosity of the community.
"It's amazing how people that don't know you will step up and help you out," he said.