Posted on
Mon, Apr 1, 2013 : 5 p.m.
Donor matching monetary gifts to Humane Society of Huron Valley in honor of dog adopted after cruelty investigation
By Amy Biolchini
For this week only, an anonymous donor will match all monetary gifts to the Humane Society of Huron Valley's Cruelty and Rescue Department in honor of a dog recently adopted after a lengthy animal cruelty investigation.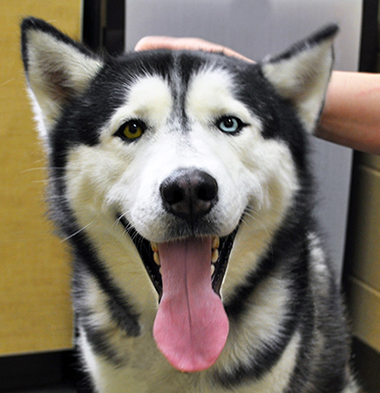 Courtesy of HSHV
The donor will match gifts dollar-for-dollar up to the total of $10,000, according to the Humane Society. All of the funds raised will go directly to the non-profit organization's cruelty investigation team.
"We are deeply grateful for the generous gifts that pay for nearly 500 animal cruelty investigations and literally thousands of emergency rescue service calls for sick, injured, abandoned pets and wildlife each year," Tanya Hilgendorf, executive director of the Humane Society, said in a statement.
"There is absolutely no way we could do this work without the generous big-hearted animal lovers in this community who want to see vulnerable animals protected."
During 2012, about $1.5 million of the $4.7 million in revenue HSHV brought in was from contributions made by individuals and businesses, according to the organization's annual report.
Maverick, a 2-year-old Alaskan Husky confiscated from an Ypsilanti Township woman found guilty of animal cruelty this month, was adopted Friday.
The Humane Society's cruelty investigators said the dog's owner tied Maverick's mouth shut with twine.
When Maverick came in to the care of the Humane Society in August, he was severely underweight, dehydrated and had a large, deep wound on his side that investigators said may have come from a burn.
During the months that the case progressed against the dog's owner, Maverick's wounds healed and he grew to a healthy weight.
His owner, Crystal Smith of Ypsilanti Township, was found guilty of animal cruelty March 21 in Judge Charles Pope's courtroom in the 14B District Court in Ypsilanti. She will be sentenced May 2.
Donations should be made online through the Humane Society's secure website.
Select "Cruelty and Rescue Dept." under the drop-down menu in the "Donation Designation" field.
Donations also can be mailed to the Humane Society of Huron Valley at 3100 Cherry Hill Road, Ann Arbor 48105. Include a note to designate the donation: Cruelty/Rescue, Maverick or Match Challenge.
A list of all adoptable animals at the Humane Society also is available online.
Amy Biolchini covers Washtenaw County, health and environmental issues for AnnArbor.com. Reach her at (734) 623-2552, amybiolchini@annarbor.com or on Twitter.