Posted on
Sun, Mar 14, 2010 : 9:53 a.m.
Doorknobs: At Camp Take Notice, campers long for what we take for granted
By Megan Flood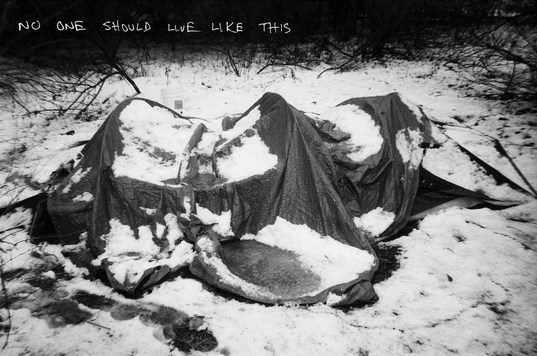 Photo courtesy of Joseph Gill and Megan Flood
When you're first introduced to Joseph Gill, you immediately notice his perfectly gelled hair. He frequently wears blue jeans and his favorite Red Wings T-shirt.
Joe, 43, owned his own business for 20 years, but business declined, and he experienced bankruptcy as a result of the recession. Easy-going and likeable, he is now employed at a local business in Ann Arbor.
What is not apparent, however, is that for the past six months he has become one of the homeless in our community and lives in Camp Take Notice, a tent community in Ann Arbor.
As an active volunteer for homeless causes over the past six years, I wanted to focus my University of Michigan School of Art & Design senior thesis on the "new homelessness." Since the onset of the recession, I have witnessed the issue of homelessness emerge as a social crisis in our country, one having detrimental effects on millions of Americans. A homeless person today may have been your next-door-neighbor, who is now without a job and without a home.
My journey began in October 2009, when I reached out to Camp Take Notice board members, who are volunteers assisting the homeless campers. The members excitedly welcomed me to the weekly Monday night meetings at the Ann Arbor District Library. Halfway through my first meeting, I realized a few board members were representatives from the camp. One couldn't detect their homeless plight from appearance; it was only through conversation that I realized a few members at the meeting would be sleeping in the frigid cold that night.
The board provided the meeting agenda and rules of the camp. No drinking. No drugs. No stealing. No fighting. If you break the rules, you are asked to leave.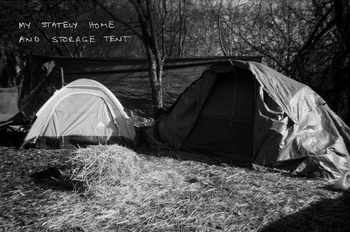 Photo courtesy of Joseph Gill and Megan Flood
Board members invited me to participate in Wednesday night meetings at Camp Take Notice. This was my first introduction to the 20 or so homeless campers. Surrounded by canned food and blankets, campers crowd together in the freezing communal tent to discuss concerns. I introduced myself as an Art & Design student and was immediately showered with questions. "What medium do you work in?" "What programs are you using for graphic design?" "Is that an SLR digital camera?"
These were not the type of questions I expected. The campers were well-spoken, smart, compassionate and motivated.
Through photo documentation and recording of several Camp Take Notice meetings, I learned about the people inside the tents.
Especially Joe.
After many conversations with Joe, he agreed to collaborate on an art project. I gave him a disposable camera and asked him to photograph his daily activities. Who better to capture the difficulties of homelessness than one living in Camp Take Notice? I transformed his photographs into black and white images, layering his handwritten captions on the photo.
After developing Joe's compelling images, I gave him another camera and asked him to continue. Shortly thereafter, he sent me a startling text message: "Major catastrophe. Snow from last night collapsed all of our tents." The camera allowed him to document this devastation.
The saddest moments during our interviews occurred when I asked him what he misses most. Joe shared that in addition to cooking over a hot stove and watching the Discovery Channel, what he misses most is doorknobs.
"You don't appreciate doorknobs until you don't have one," Joe explained. "It's just the simple little things, living inside the creature comforts of a home that you don't really realize that you appreciate until you live outside. Having a doorknob means you have security. You have security and comfort in knowing you have a roof over your head."
Such objects we take for granted are what Joe and his fellow campers long for most. The tents provide but a temporary solution until the homeless can get back on their feet.
But even this temporary solution is being threatened, as the Michigan Department of Transportation has directed that the homeless camp be disbanded.
Not long ago, Joe called to share some great news. After six months of homelessness, he had finally saved enough money from his new job to rent an apartment.
But he is just one. Many others will remain in the cold.
What can we do to help? I asked Joe this question back in December. His answer was that people should go beyond donating money or protesting for political solutions to the plight of homelessness.
His answer was simple: "Just show some compassion for your fellow human being."
Megan Flood is a senior at the University of Michigan School of Art & Design. Her work with Camp Take Notice can be seen on her blog, or on April 17, during the senior show for art and design students. To learn more about Camp Take Notice, visit http://www.tentcitymichigan.org/.