Posted on
Sat, Mar 3, 2012 : 5:57 a.m.
Double Up Food Bucks: Program benefits farmers and low-income consumers seeking fresh produce
By Julie Baker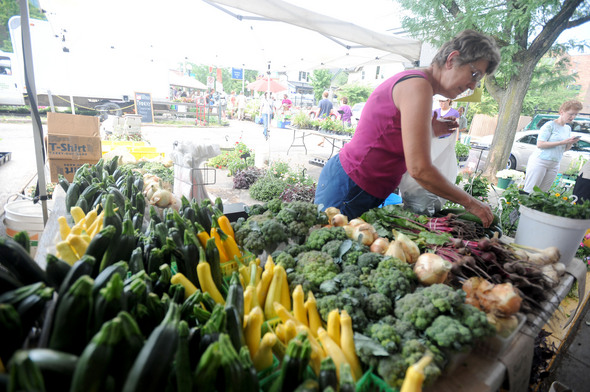 Angela J. Cesere | AnnArbor.com
A program that doubles the value of food stamps when they're used at farmers markets in Michigan has proven to be a win-win for farmers and low-income consumers, according to an Ann Arbor-based nonprofit.
Double Up Food Bucks is an incentive program that doubles the value of federal Supplemental Nutrition Assistance Program dollars, previously called food stamps.
SNAP sales at Michigan's 55 participating farmers markets grew from $16,000 in 2007 to $1.1 million in 2011, stimulated in part by the Double Up program, according figures from the Fair Food Network. The national nonprofit works to improve access to fresh, healthful foods.
Lon Horwedel | AnnArbor.com
Oran Hesterman
, president of the Fair Food Network, traveled Thursday to Washington, D.C., to brief the Senate Agriculture Committee on the Double Up Food Bucks program as it works to craft the
2012 Farm Bill
. The committee is currently researching farm programs to determine the support they will receive in the bill.
"Given these tough economic times at home, in Washtenaw, this is a moment where we need to find more effective ways to use every dollar we're spending," Hesterman said in an interview.
The Double UP program uses funds raised from foundations and corporations to "match" purchases at farmers markets in Michigan: when customers use their SNAP benefits at farmers' markets, they receive an equal amount of tokens, up to $20 per visit, to use at the market to purchase fresh produce, according to the Fair Food Network.
The program started in 2009 in Detroit, and 55 farmers markets in Michigan now participate, including those in Ann Arbor, Westside Ann Arbor, downtown Ypsilanti and Ypsilanti's Depot Town.
"This program is a market-maker," Hesterman said. "It's providing a model of how to do food stamps better, how to connect consumers with farmers."
There are 1.75 million SNAP recipients in Michigan, 17.5 percent of the state's population.
More than 275 farmers sold more than $1.3 million of fresh Michigan produce for Double Up Food Bucks and SNAP dollars in the 54 participating markets between June and November 2011, according to Fair Food Network figures.
Hesterman said many consumers using SNAP dollars say they've never gone to farmers markets before, so the Double Up program is creating a new customer base. Single women and the elderly are the most common new users, who now have easier access to produce such as spinach, greens, melons and cucumbers.
The program also has the potential to create jobs because of the increased demand for fresh food. Farmers can potentially expand their productions, Hesterman said.
Click here for more information on the program.
Contact Julie Baker at juliebaker@annarbor.com or 734-623-2576. Follow her on Twitter @juliebakera2.