Posted on
Tue, Sep 7, 2010 : 6 a.m.
'Double Up Food Bucks' program coming to local farmers markets
By James Dickson
Starting this week, bridge card recipients can stretch their dollars at several farmers markets in Washtenaw County.
The Ann Arbor Farmers Market in Kerrytown, along with its counterparts on the west side of town and in Ypsilanti, have partnered with the Fair Food Network to bring the "Double Up Food Bucks" program to Washtenaw County.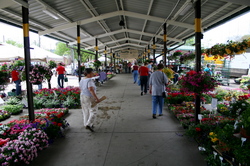 Jessica Webster | AnnArbor.com
The food bucks program kicks off today at the Downtown Ypsilanti Farmers Market, Wednesday in Kerrytown, Thursday at Ann Arbor's Westside Market, and Saturday at Ypsilanti-Depot Town, said Rachel Chadderdon, program manager for Double Up Food Bucks.
"When (the Fair Food Network) approached us, I thought this was a great way to bring in people who might not normally come to the Farmers Market," said Molly Notarianni, manager of the Ann Arbor Farmers Market.
Notarianni said the market has accepted food stamps and other food assistance programs for about a year.
Food bucks not only trade as currency — as with food stamp tokens, farmers redeem them for legal tender later — but the network matches bridge card spending 100 percent for purchases up to $20. That means a food bucks user who spends $20 will walk away with $40 worth of fresh fruit and vegetables.
There is one restriction: Double Up Food Bucks can only be spent on Michigan-grown fruits and vegetables.
In 2010, the program will run through Oct. 31 because that's about when locally-grown crops start becoming scarce, Chadderdon said. It should return in June or July and remain a fixture locally for at least three years, she said.
The Double Up Food Bucks program is an extension of the Fair Food Network's "Mo' Bucks" pilot effort last year at Eastern Market and four other farmers markets in Detroit.
On Saturday, Sept. 11, the program will expand to Battle Creek, and the plan is to establish Double Up Food Bucks programs at farmers markets across the state over the next three years, Chadderdon said.
James David Dickson can be reached at JamesDickson@AnnArbor.com.