Posted on
Sun, Nov 25, 2012 : 10:30 a.m.
Conquer the Cold challenges downtown Ann Arbor workers to walk, bike or bus
By Lisa Carolin
It's starting to feel like a lot like winter, but that needn't keep you from taking advantage of alternative modes of transportation.
At least that's the view of the folks promoting Conquer the Cold in Ann Arbor this winter.
The idea of the promotion is to inspire employees who work in downtown Ann Arbor to take the bus or bike or walk to work even during the coldest months.
Conquer the Cold is a partnership between TheRide, the CIty of Ann Arbor, and the Ann Arbor Downtown Development Authority.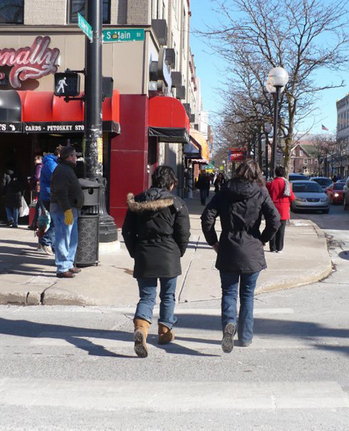 "Winter is a long season in Ann Arbor, so why not enjoy it?" said Nancy Shore, manager of the local getDowntown program. "Our mission is to give people the tools and excitement to use alternative ways to get to work."
Conquer the Cold activities include winter bike commuting classes where participants can learn about about safe routes, proper clothing, and outfitting a bicycle for winter.
There will be an online commuting competition during the month of January. Participants can win badges like the "Abominable Snowman" and "WInter Dominator" if they use their alternative commuting methods on extremely cold and snowy days. The grand prize is a $500 gift certificate to Moosejaw.
Shore organizers are hoping for 100 dedicated people to sign up and additional participants for weekly competitions. Local celebrities, including chefs, engineers and law enforcement officials, will be participating.
"I think that riding in the snow can be fun," said Ann Arbor police officer Kathy Vonk. "I personally save $190 a month in gas by cycling to work instead of driving."
Shore said she considers commuting 5 miles by bike one-way to be a reasonable distance.
"Walking two miles one-way is reasonable, and people can take buses from all over the place," said Shore. "We're targeting any employee who works in downtown Ann Arbor who wants to do a winter commute."
Anyone interested in learning more is invited to stop by Sweetwaters coffee shop on these dates: Tuesday, Nov. 27, 8-11 a.m., at the 123 W. Washington location; Wednesday, Nov. 28, 8-11 a.m., at the Sweetwaters in Kerrytown; Tuesday, Dec. 4, 8-11 a.m., at the 123 W. Washington St. location; and Wednesday, Dec. 5, 8-11 a.m. at the Sweetwaters in Kerrytown.
For more information on the Conquer the Cold Challenge, check out the listing of events.