Posted on
Fri, Jun 11, 2010 : 8:14 p.m.
Downtown Ann Arbor Mayor's Green Fair touts eco-friendly living
By Tina Reed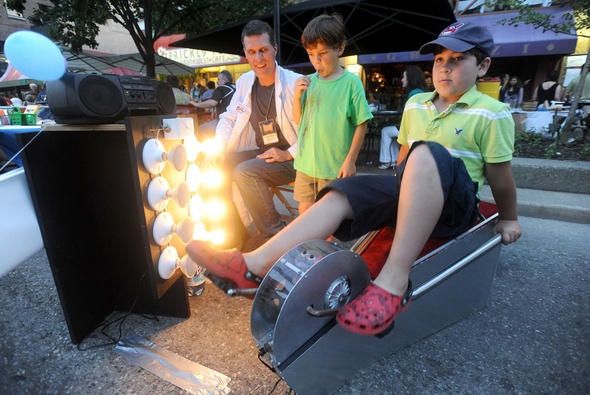 Angela J. Cesere | AnnArbor.com
Ann Arbor residents Eric and Barb Ward say they've been dipping their toes into living a more sustainable lifestyle.
Getting rid of the TV was one step. Cutting back on car trips was another.
But they say they're getting ever closer to diving into a bigger investment like getting solar panels to help power their homes — or, as they were learning about at the Mayor's Green Fair in downtown Ann Arbor on Friday, purchase a hybrid vehicle to reduce their fossil fuel consumption.
"We're interested. But the budget is just not there yet," Eric Ward said after checking out one of the hybrid vehicles parked at the Main Street event.
"In general, we should move away from fossil fuels," Barb Ward said. The "BP (spill) is only one example of why."
The hybrid vehicles were just one exhibit at the Mayor's Green Fair in downtown Ann Arbor, which featured tables of information from non-profit organizations and companies.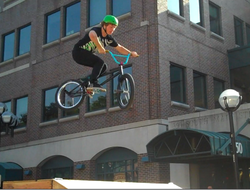 Tina Reed | AnnArbor.com
The fair stretched down South Main Street from Huron to WIlliam Street as folks at the fair mingled among sidewalk diners. Despite threats of thunderstorms in the forecast Friday evening, the fair had plenty of sun and downtown interest as hundreds strolled among the eco-friendly ideas.
The event featured non-profit conservation groups, local bicycle enthusiasts, natural product companies, a number of hybrid cars and local experts on sustainable eating, cleaning and building.
While the ongoing oil spill in the Gulf of Mexico wasn't the focus on the event, it also wasn't far from the minds of many visitors and exhibitors Friday evening.
Steve Adams and Heather Phillips said it's certainly been the topic of concern for them.
"I ride the bus to work every day and I'm noticing more people on there," since the oil spill began, Adams said. "One person I know said she went back to riding the bus because she wanted to cut back on the amount of oil she's been using."
The two were checking out a special kind of tile at the event because, slowly but surely, they are renovating their home and want to keep the changes as sustainable as possible, they said.
But — echoing the sentiments of many other at the event — they also need to keep an eye on the bottom line. "As green as we can afford. It does get expensive," Adams said.
Tina Reed covers health and the environment for AnnArbor.com. You can reach her at tinareed@annarbor.com, call her at 734-623-2535 or find her on Twitter @TreedinAA.