Posted on
Sat, Jan 7, 2012 : 12:59 p.m.
Complaining about downtown parking fees has a long history in Ann Arbor
By Ryan J. Stanton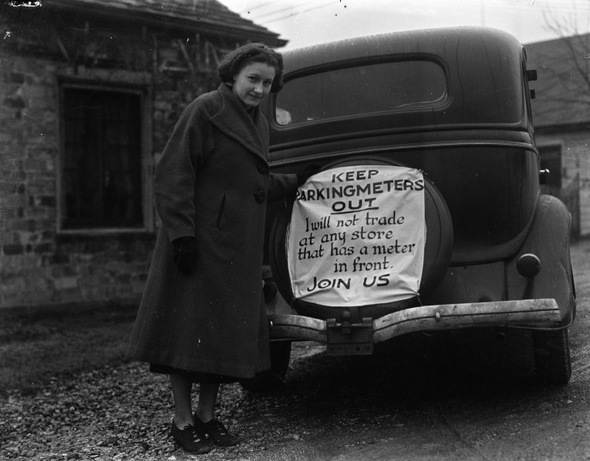 Ann Arbor News file photo
Strong opposition to
paying for parking in Ann Arbor
, as well as threats of boycotting downtown businesses because of meter rates, can be traced back at least 74 years.
Ray Detter, chairman of the Downtown Area Citizens Advisory Council, recently discovered a collection of old newspaper stories and photographs from the Ann Arbor News archives, now maintained online by the Ann Arbor District Library.
His favorite find is a 1938 photo taken by Eck Stanger, chief photographer for The News for 40 years from 1934 to 1974.
The photo shows a woman standing behind an automobile with a sign that reads: "Keep Parking Meters Out. I will not trade at any store that has a meter in front. Join Us."
Nobody likes to pay more for anything, and that includes parking. But past predictions that another parking rate increase might be detrimental to downtown Ann Arbor — a fear being echoed again after the latest rate hike — never have proven true.

Another newspaper clipping from April 24, 1970, when the downtown parking system was facing a financial crisis, carries the headline:
"Parking Rate Hike Plan Criticized."
At the time, the increase in parking rates under consideration by the Ann Arbor City Council was opposed by a group called the Downtown Business Association, which argued doubling the rates "would be detrimental to business and, in turn, to the city."
But what did doubling the rates mean in 1970? Going up from 10 cents to 20 cents per hour.
A news article from July 14, 1970, confirms those changes took effect. And of course, downtown never died.
The Downtown Development Authority last week approved increasing the on-street meter rate again — this time from $1.40 to $1.50 an hour.
That won't take effect until Sept. 1, but other changes, including increases in the cost of parking in some structures and lots, take effect Jan. 21.
A number of business owners and downtown visitors think it's a bad move. But DDA officials maintain the increases are needed to cover costs of the parking system, including a new structure being built on Fifth Avenue, and to help augment the city's general fund.
Even with steady increases in parking rates in recent years, DDA officials point out demand for parking and the number of people visiting downtown continues to grow.
Building a parking system
Some of the old Ann Arbor News stories give credit to former Mayor William E. Brown Jr. for the proliferation of the city's parking system early on.
A May 19, 1969, news article written by staff reporter Glen Harris offers a retrospective look back to 20 years prior when the first-term mayor hit upon an untried plan for financing parking facilities, and he wasn't even sure it was legal at first.
Brown went on to serve five more terms, the method of financing was upheld by a court, and the system for adding parking spaces was copied by cities across the country, according to the article.
The 1969 article commemorated the 20th anniversary of the dedication of what it referred to as "the W. Washington St. carport, the first parking facility in the country built by revenue bonding — and also Ann Arbor's first structure."
Brown told the newspaper he got the idea for using revenue bonds to build parking structures after the Michigan Legislature in 1947 passed a law allowing cities more leeway in using revenue bonding to build public utilities. He saw using parking revenue to finance construction as an alternative to special assessment districts or asking voters for more tax money.
"During his stay in office, Brown spent a good deal of time traveling to various parts of the country explaining the system to other city officials," the 1969 article reads. "He says the system originated here was copied whole or in part by such cities as New York, Detroit, Miami, Cleveland, Portland, plus most of the cities in Michigan."
In 1950, the city's off-street parking facilities could handle 585 cars, but by the end of Brown's administration in 1957, the city had constructed the Washington Street and Maynard Street structures and had acquired and developed land for eight off-street parking lots, providing 1,442 spaces, according to the 1969 article. And with the increased facilities, the revenue from parking boomed from $116,000 in 1950 to $330,00 in 1960.
Three other parking structures were built in the decade that followed. In October 1966, the Forest Street parking structure was finished, and in 1967, the Fourth and William and Fourth and Washington structures were completed, adding more than 1,000 spaces.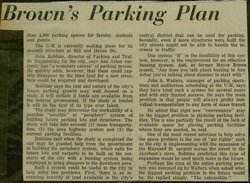 "The city's parking facilities currently consist of carports at Maynard, Forest, Washington and First, William and Fourth and Washington and Fourth, providing 1,883 parking spaces, 12 parking lots with 838 parking spaces and 1,150 street metered spaces," reads the article from 1969. "Expansion of the Maynard St. carport across the street and above the Jacobson's store is expected to be completed next month, adding spaces for about 270 cars."
Today, the DDA manages the city's 7,200-space parking system, which includes six structures with about 4,300 spaces, 18 lots with about 1,200 spaces and about 1,700 on-street metered spaces. Annual revenue from those sources is more than $16 million.
The city's first underground parking structure, being built on Fifth Avenue between Liberty and William, is set to open in July with about 700 more spaces. The city issued bonds for the construction of the $50 million garage, financed with parking revenues and tax money.
The city and DDA also are partnering with developer Village Green on the Ann Arbor City Apartments project at the corner of First and Washington. The high-rise project includes a 244-space parking garage to be owned by the city and managed by the DDA.
Of the 244 spaces, about 72 are expected to be held for residents, leaving 172 spaces for the general public. The City Council agreed in October 2010 to authorize up to $9 million in general obligation bonds for a substantial portion of the costs of the four-level garage.
Increased parking rates help cover those costs.
Ryan J. Stanton covers government and politics for AnnArbor.com. Reach him at ryanstanton@annarbor.com or 734-623-2529. You also can follow him on Twitter or subscribe to AnnArbor.com's email newsletters.