Posted on
Wed, Nov 17, 2010 : 2:51 p.m.
Downtown Ann Arbor's new pedestrian HAWK signal up and running
By Heather Lockwood
Ann Arbor's new pedestrian High-intensity Activated crossWalK signal — the first in Michigan on a state trunkline — is now up and running.
The HAWK signal is meant to make crossing at the intersection of Huron Street and Third/Chapin Street in downtown Ann Arbor safer for pedestrians. A short ceremony was held there this afternoon to mark the signal becoming operational.
Michigan Department of Transportation spokeswoman Kari Arend said the signal became operational today. She said it's important pedestrians and motorists alike familiarize themselves with how it works.
"This will take a little bit of an educational campaign to get pedestrians and motorists used to the signal," Arend said.
MDOT planner Kari Martin said the intersection, with its high pedestrian volume, made for a "really good spot" to install the pilot signal.
She pointed out the Ann Arbor YMCA, senior center, bus stop and residential areas near the intersection are all demonstrative of the need for the HAWK signal.
Ceremony attendees — including representatives from MDOT, the city of Ann Arbor and Washtenaw Area Transportation Study — donned orange safety vests that read "HAWK Walk 2010" and tried out the new signal.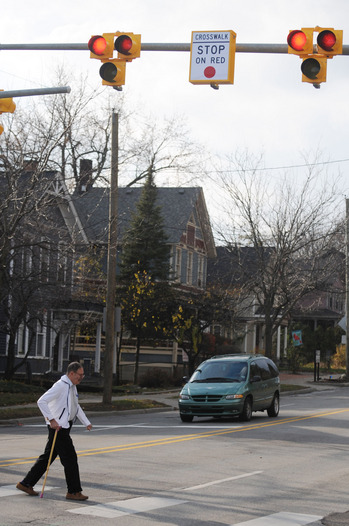 Melanie Maxwell | AnnArbor.com
"We think this a perfect location to test it because of the (Ann Arbor) Y (being nearby), and I think at least one senior center," Terri Blackmore, WATS executive director, said in August. "Seniors use the bus, and they have to be able to cross safely."
A HAWK signal can be activated by pedestrians with the push of a button. A flashing yellow light alerts drivers to the pedestrian preparing to cross, followed by a solid yellow light alerting drivers to prepare to stop, according to the Michigan Department of Transportation website.
The signal then changes to a solid red, allowing pedestrians to cross. The solid red signal begins to flash after a predetermined amount of time, allowing drivers to continue through the intersection once it's clear. When the HAWK signal isn't activated, it will remain dark, and drivers can continue through the intersection without stopping.
"We can already see that it works," said Eli Cooper, city transportation program manager.
Cooper said it's possible the city will get more HAWK signals in the future.
"The question of how many and where becomes an issue of resources," he added.
Heather Lockwood is a reporter for AnnArbor.com. Reach her at heatherlockwood@annarbor.com or follow her on Twitter.