Posted on
Sun, Jun 24, 2012 : 5:58 a.m.
Ann Arbor businesses already preparing for 2013 NHL Winter Classic
By Pete Cunningham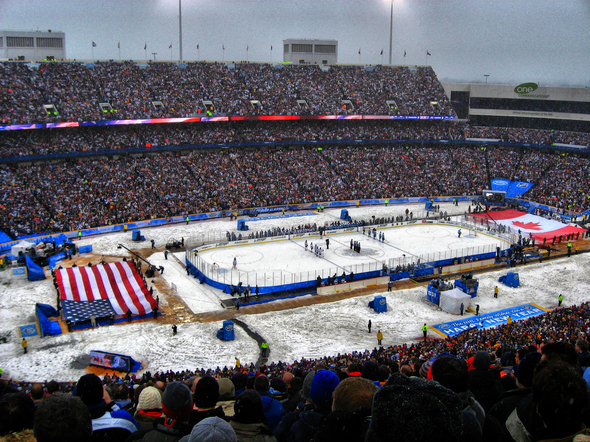 Photo by Falling Heavens | Wikimedia Commons
The 2013 NHL Winter Classic at Michigan Stadium may be six months away, but preparations are already getting under way by Ann Arbor businesses.
The New Year's Day outdoor hockey game between the Detroit Red Wings and Toronto Maple Leafs is expected to attract the largest crowd ever to watch a hockey game, and the NHL has said it wants to break the stadium's record attendance of 114,804.
Local retailers, restaurants and hotels are adjusting holiday plans in order to capitalize on the event.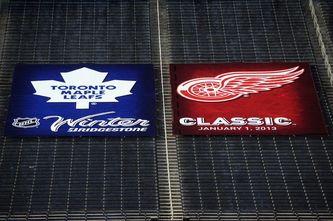 AnnArbor.com file photo
In an email from Main Street Area Association Executive Director Maura Thomson, local businesses are being urged to "start thinking about New Year's Day and plan accordingly."
"We just want this to be a great experience for all the visitors," Thomson said.
Recent Winter Classic host cities Boston, Pittsburgh and Philadelphia reported spinoff revenue of between $22 to $36 million, according to the Philadelphia Convention and Visitors Bureau.
For some, the planning began in February when the University of Michigan first agreed to lease the stadium for the annual event. For the first time in the restaurant's 17-year history, Arbor Brewing Company will be open on New Year's Day.
"We're excited to just to be open on that day and for the opportunity," said Casey Hyde, general manager of the brew pub on East Washington Street in downtown Ann Arbor.
Hyde said the difficult part of restricting staff vacation on one of the rare days that Arbor Brewing is normally closed is offset by the excitement of the expected business. Hyde said the company is considering brewing a special beer for the event and the Canadian visitors it is bound to attract.
"Our kitchen loves to come up with new stuff, so we're excited," she said.
"Personally, I would rather be closed and be able to go away with my family and have a break," said Elmo Morales, owner of Elmo's Main Street T-Shirts. "But we'll be ready to capture that business." Though Michigan Stadium will hold 40,000 more fans than any previous Winter Classic venue, some typical revenue-driving events won't be held in Ann Arbor. The annual alumni game and minor and college hockey games -- like the Great Lakes Invitational -- will be played in Detroit, as opposed to centralized around the game's venue like in the previous five years of the event.
The split venue presents a unique challenge for Ann Arbor's businesses, which is why the MSAA has formed a committee to explore planning local events.
"We're going to consult other cities but (because of the split venue) it's a different animal." Thomson said.
Regardless, Michigan Athletic Director Dave Brandon has stated that he expects the spinoff revenue for the game to be greater than the $14 million generated at home football games.
Hotels are treating the game -- which will be played on a Tuesday -- like they would treat a Michigan football weekend against a marquee opponent like Ohio State or Notre Dame.
Holiday Inn, 3600 Plymouth Road, will require a minimum two-day stay, which is not typical around the New Year's holiday. It will increase rates as well.
"Rates will be elevated for supply and demand and that will be typical across the board," said Holiday Inn general manager Joseph Sefcovic, who is also president of the Washtenaw County Hotel/Motel Association. "People are just applying the football game logic."
Unlike football Saturdays, though, there won't be a built-in student population or as large of a local contingent of fans. A different approach to parking will be necessary because of this, which is why a separate committee was formed by the MSAA solely to address transportation.
"This is in the infancy of the infancy stages," Thomson said. "But we're getting out ahead of this."
Contact Pete Cunningham at petercunningham@annarbor.com or by phone at 734-623-2561. Follow him on Twitter @petcunningham.